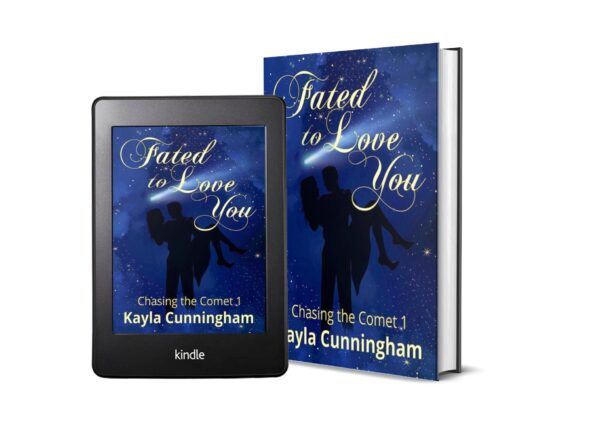 Book Information
Published by: eXtasy Books
Author : Kayla Cunningham
Paperback ‏ : ‎ 404 pages
ISBN-10 ‏ : ‎ 1487437633
ISBN-13 ‏ : ‎ 978-1487437633
ASIN ‏ : ‎ B0C9C4FWVW
Word Count :127712
Publication Date : 2023-06-23
Series : Chasing the Comet#1
Heat Level : Three Flames
Category : Contemporary Romance , Romance 
BLURB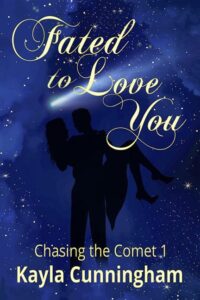 Cassandra Steel's passion for science opens doors to an incredible opportunity—a study abroad program in Colombia's Amazon Rainforest. Still reeling from a devastating breakup, Cassie throws herself into research, convinced that love is not in the cards. However, fate has other plans.
Enter Zhang Xuan, a captivating fellow scientist who unexpectedly captures Cassie's heart. As they begin to explore their feelings for each other, they are forced to confront the harsh reality that their time together may be limited.
With their time abroad coming to an end, Cassie undertakes a final humanitarian project, delivering school supplies to local children. But tragedy strikes when a devastating mudslide hits. Against all odds, Cassie and Xuan cling to the hope that their connection is more than mere chance—a result of a powerful twist of fate.
Join Cassie and Zhang on a journey of true love, blazing as fiercely as the stars, as they navigate the complexities of destiny and defy the odds that stand in their way.
EXCERPT
"Can I touch you?" he asked.
The dark ocean water was kissed with silvery starlight. The night was too dark to see our reflection or anything below the surface of the frigid waters. I nodded, not wanting my voice to betray my confidence. I stood paralyzed, my heart and blood pounding, as I waited for him to touch my bare skin.
Xuan shuddered the tiniest bit as he reached out and put a hand on my shoulder, slightly above my collarbone. He made broad, light circles over my bare skin. He slowly dragged a delicate finger down my arms and body, tracing the intricate contours of my form. Like an artist's brush on a canvas, he followed every movement I made, every subtle flicker of muscle beneath the water's surface. His finger became a conduit, bridging the gap between our souls as he explored the land- scape of my skin, leaving a trail of electric tingles in its wake.
His breath came rougher now as his gaze lingered on my breasts and a phantom wind hissed in our ears. My mouth parted slightly, my breathing shallow. I traced my tongue over his lips as I stroked his back. He tasted like the sea as his tongue flicked against where my lips had been.
Picking up my legs, I wrapped myself around his waist, my arms around his neck. He lifted me and slowly began to carry me up out of the water and onto the wet sand.
BUY LINKS
Amazon (paperback and ebook): https://a.co/d/1ydCt42
Barnes and Noble (ebook): https://www.barnesandnoble.com/w/fated-to-love-you-kayla-cunningham/1143739174?ean=2940167396821
Extasy Books: https://www.extasybooks.com/Fated-to-Love-You
REVIEWS
San Francisco Book Review:
https://sanfranciscobookreview.com/product/fated-to-love-you/
Seattle Book Review:
https://seattlebookreview.com/product/fated-to-love-you/
Manhattan Book Review:
https://manhattanbookreview.com/product/fated-to-love-you/
Portland Book Review:
https://portlandbookreview.com/product/fated-to-love-you/
Onlinebookclub.org:
https://forums.onlinebookclub.org/viewtopic.php?t=296149
ABOUT THE AUTHOR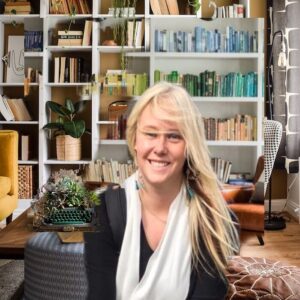 Kayla Cunningham holds two education degrees, and she teaches history at the high school level and adult ESL, while also volunteering as a Hostage Crisis Negotiator. She is cur- rently working on her Ph.D. in Teaching English as a Second Language and enjoys taking flying lessons with her husband. Kayla has a passion for traveling and meeting people from different cultures around the world. She hosted six boys from China and has traveled to Asia many times. She was born in San Luis Obispo and raised outside the city of Santa Cruz, California. She is an advocate of exploring issues of racism and current events, including the rise in Asian hate crimes caused by the pandemic. Fated to Love You is Cunningham's first contemporary romance novel. She just completed the sec- ond installment of the Chasing the Comet series and is currently working on a YA fantasy trilogy called Storm Breaker.
Where to Find me:
WEBSITE https://kaylacunninghamauthor.com/
GOODREADS https://www.goodreads.com/author/show/41231112.Kayla_Cunningham
INSTAGRAM @authorkaylacunningham
FACEBOOK https://www.facebook.com/authorkaylacunningham
LINKEDIN: https://www.linkedin.com/in/kayla-cunningham-42b932167/
TIKTOK: https://www.tiktok.com/@authorkaylacunningham