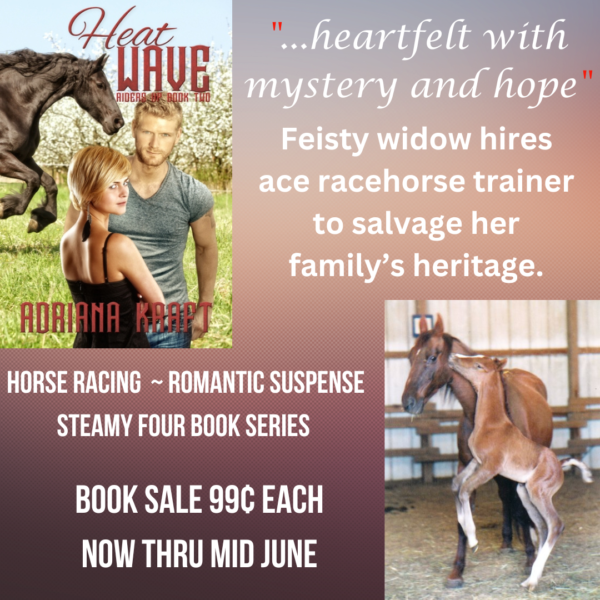 Welcome to Snippet Sunday – ten sentences from all your favorite romance authors! You'll find them all at this Facebook Group every Sunday:
https://www.facebook.com/groups/SnippetSunday/
Did you watch the Kentucky Derby yesterday? Those late scratches threw everyone's tickets into a mad scramble to replace horses. What a race! And now it's on to the Preakness, always two weeks after the Derby.
Our four steamy romantic suspense novels set in the thoroughbred racing world are on sale for just 99¢ each, now through mid-June, to celebrate this year's race for the Triple Crown.
Book Two, Heat Wave, draws on our years in Iowa, our own experience raising and training horses, and a family member's journey to sobriety. That young man has read and vouched for those elements of Ed's journey in Maggie's story. We celebrate all who struggle and succeed.
EXCERPT
Set up: On the porch at Maggie's farm. Ed has just driven to the farm to accept the job Maggie has offered him to train her horses.
"There is one thing – you know I can't take your horses to the track."
Maggie nodded. "I know about the ban, Ed. That doesn't have anything to do with me. You've been vouched for, and that's enough—there are likely a lot of bridges yet to cross. Let's take them one at a time."
"I'm all for that, Maggie." Harrington lifted his cup in salute.
That was the first time he'd called her Maggie. It sounded too familiar, yet they had to be on a first name basis if they were going to work together as a team. She took a short breath, excited about actually beginning to put in place her plan to save the farm. Her nerves tingled at the prospect.
Or, perhaps her nerves were responding to the man who pronounced Maggie in a gravelly voice that oozed intimacy.
REVIEWS
Goodreads: Five Stars: Heartfelt with mystery and hope…made me cry. Spot on interplay between the main characters…well written and extremely enjoyable to read. Donna H.
Amazon: Five Stars: I felt like I was on a roller coaster reading this story! Laughing one second, then felt like crying the next, always on the edge wanting to know what is going to happen next. Amy B.
BUY LINK
99¢ SALE
http://www.amazon.com/dp/B00JZ6GW6G
BOOK INFO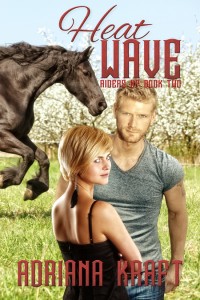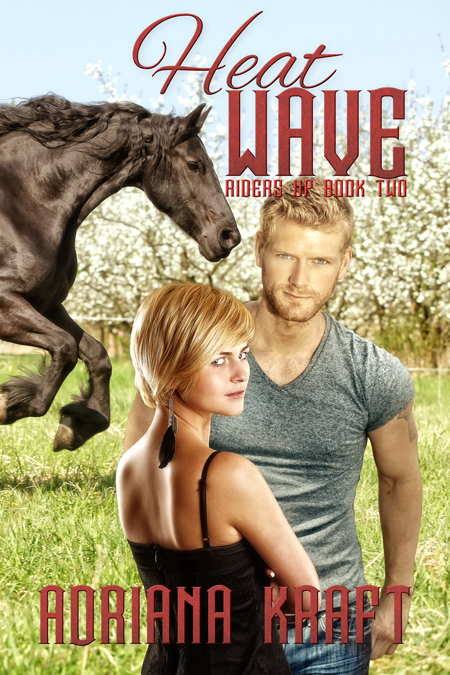 Title: Heat Wave
Series: Rider Up, Book Two
Can be read as a stand-alone
Author: Adriana Kraft
Publisher: B&B Publishing
Publication Date: April 30, 2014
ISBN 978-0-9907476-2-8  ASIN B00JZ6GW6G
Length: 93,000 Words   418 Pages
Genres: Romantic Suspense, Erotic Romance, Sports Romance
Pairings: M/F
Tags: Horse Racing, Thoroughbred Racing, Small Town, Saving the Farm, Young Widow, Horse Trainer
Heat rating: 3 flames
BLURB
During an oppressive Iowa summer of drought and farm foreclosures, widowed Maggie Anderson makes a bold decision: She'll merge her love of horses and her family's three hundred and twenty acres into a horse farm and try her hand at nearby Prairie Meadows Racetrack, where racing purses have just been augmented by the recently added casino gambling.
Down on his luck after being falsely accused in a racing scandal and banned from training, former Arlington Racetrack trainer Ed Harrington has skulked home to Des Moines to drown his sorrows and wait for the dust to clear. He's unprepared for the piercing robin's-egg-blue eyes of pint-sized Maggie Anderson, who finds him at a flophouse and offers him a job. Can he pull himself together and meet the challenge?
As the two forge a tumultuous working partnership, they soon discover someone is out to get Maggie's farm and will stop at almost nothing to force her off the land. Can they find and stop the culprit before someone is killed? Can they survive the far greater danger unleashed by the raw passion simmering just beneath the surface of their relationship?
~ o ~
…about the foal in my promo photo at the top of this post – I'm well aware he's not a thoroughbred racehorse. His sire is Arabian, his dam, pictured with him, is a Saddlebred, and we gave him a role in Book Four in the series, Detour Ahead.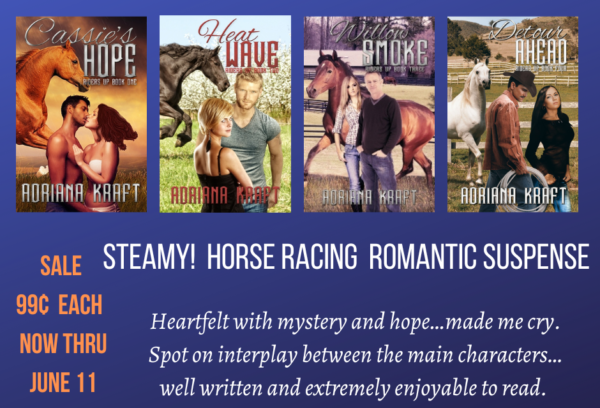 FIND EVERYONE'S POSTS IN THIS FACEBOOK GROUP:
https://www.facebook.com/groups/SnippetSunday/