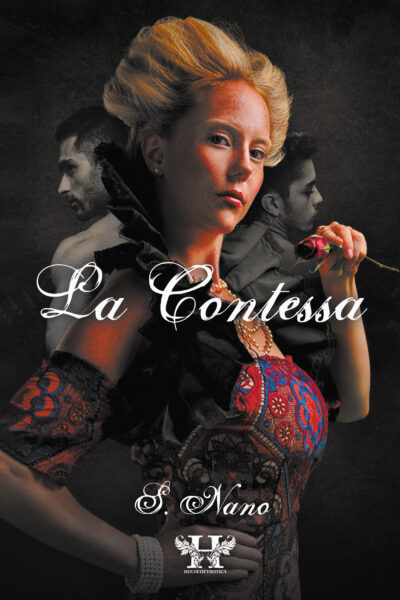 La Contessa
Available from: https://books2read.com/lacontessasnano
Blurb:
The most decadent city. The most perverted mistress.
Renowned for her beauty and cruelty, La Contessa's reputation as a dominatrix is well established. And 18th century Venice has degenerated into a decadent and lascivious city, a perfect backdrop for her to play-out her debauched games and political ambitions.
She sends her maid, Julia, into the alleyways to search for a young man to act as her slave. Julia finds Roberto prostituting himself in the least salubrious district of Venice. He enters into La Contessa's service to perform her bizarre and sadistic scenes.
From their first meeting there is a mutual attraction between maid and servant. The young couple engineer a series of sexual encounters, knowing the risks should their mistress discover them. Their situation is complicated when La Contessa rescues Becky and brings her to the palazzo as her submissive girl-slave. The interloper exposes Julia's jealousies… and the feelings for her mistress.
How long can Roberto and Julia keep their love secret? Will Becky's presence thwart their relationship? Will La Contessa's scheming bring her the richest prize in all Venice?
All is resolved before the Grand Ball and masked, BDSM orgy held by La Contessa in her palazzo as the climax to Venice's Carnivale.
Mistress of the Air
Available from: https://books2read.com/mistressairsnano
Blurb
Mistress of the Air is a Comic, Steampunk, Erotic Adventure.
Lady Sally Rudston-Chichester owns a brass mine in Zanzibar, a Lapsang Souchong tea plantation in China, a rubber farm in Malaysia, trunk loads of corsetry, and the country's largest collection of antique whips.
Larger than life, and itching to find new and inventive ways to punish her submissive gentlemen, the Edwardian dominatrix has a vision. Embracing the spirit of the age of aviation, she embarks on a series of adventures on her airship, 'The Corseted Domme', with her transvestite maid, airship pilot and automaton sex-doll.
A select group of submissive gentlemen is invited to join Lady Sally so she can try out her dastardly, electric and steam-powered devices on them. She spanks, whips and punishes her way across the Empires of Europe, dropping off to visit her aristocratic relatives and friends for afternoon tea.
But Lady Sally's journey is not uneventful. War is threatening to break out and the Ministry of Aviation want to commandeer her airship for the war effort. And when 'The Corseted Domme' has a crash landing, Lady Sally realises there is a stowaway on board intent on sabotaging her airship,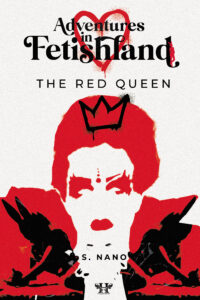 Adventures in Fetishland Book 1 – The Red Queen
Available from: https://books2read.com/adventures1snano
Blurb
In this BDSM reinterpretation of the Alice stories Kim's life takes an unexpected twist when she is taken from the massage parlour she works and introduced to a fetish fantasy world ruled over by The Red Queen, a powerful dominatrix. There an intense psychological drama is played out between the two women as Kim enters a journey into submission.
The Red Queen assumes different characters who torment Kim in a series of trials ranging from the funny and strange to the sadistic and erotic. Kim is lured into this world by hints the Red Queen knows something about her past. Why has she been chosen to serve this powerful female? Why is the Red Queen so interested in her? When Kim finally finds out the truth, it is shocking and bizarre.
Story Extract from Mistress of the Air
This is an extract from Mistress of the Air, describing the launch of 'The Corseted Domme', Lady Sally Rudston-Chichester's airship.
Revealed in all its magnificent glory, the airship was a wonder to behold. Its length was massive, its girth huge. Its surface was covered with lines of ribs formed by the duralumin framework of the ship.  It stood firm and erect on the field, globules of black, engine oil hung from its bulbous tip.
Written proudly along the length of the airship was her name, The Corseted Domme.
The crowd watching from the perimeter fence looked on in amazement. Nothing like it had been seen before. The rumour spread that this contraption was intended to be a flying machine. Wise old codgers nodded sagely muttering that such a thing would never get off the ground. A group from the local Primitive Methodist Chapel exclaimed it was an abomination and a challenge to God, saying that man was never meant to fly and this would end in disaster.
The children had no such reservations. They loved it. They believed it would fly, and Lady Sally's flying machine, a game in which children ran around with airship shaped objects, became a popular playground pastime in local schools for many years. They would never forget the momentous event they were witnessing. For decades, even after they had become parents or grandparents themselves, they would still tell the tale of when Lady Sally's giant flying machine was launched. On that one day Lady Sally's name became written into local legend, never to be forgotten.
The name of the airship created confusion. Ignorant of Lady Sally's sexual predilections they did not know what to make of it.
"Corseted Dome? And a' thought 'er ladyship'd know 'ow to spell now wouldn't thee? Eeeh, even I know 'Dome' is spelt wi' one 'm' and, 'ow can a dome have a corset?"
"Eeh, I dunno, Jack, it's fair flummoxed me," replied his friend, who was somewhat worse for wear, having drunk a gallon of strong ale.
The moment finally arrived when the airship took to the air for the first time.
Lady Sally's voice boomed out across the air field.
"Today is a momentous day. Today is a day you will remember for the rest of your lives.  Today the age of airships reaches the zenith of its achievement. Today you are witness to the largest and most magnificent flying machine ever to take to the skies. May the Goddess bless her, and all who sail in her."
With that, Lady Sally Rudston-Chichester smashed a champagne bottle against the side of the passenger coach. The crowd waited expectantly. The power cars fired up, the engines hummed, and the propellers whirred. The wires were released from the mooring tower and docking station and the massive dirigible took off from the ground. Some ran away in fright believing the devil himself had been unleashed, others gasped in amazement. The children leapt up and down in sheer delight. Gradually a ground swell of astonishment and approval rose up amongst the farmers and their families as they stood and gave an almighty cheer, throwing their hats up into the air as the airship soared up to several hundred feet.
Lady Sally Rudston-Chichester was right. They had just witnessed one of the wonders of the age.
Author Biography
Nano is an erotic writer who writes stories with dark and exotic content drawing on the themes of female supremacy, goddess worship, bondage, domination and submission, sado-masochism and fetish, frequently in fantasy, paranormal or historical settings.
His work usually has dominant female characters and submissive males. His stories explore the tensions between dominant and submissive and the boundaries between pain and pleasure, physical and mental bondage and retribution and reward.
Three of his novels have recently been published by House of Erotica. They are all featured here because they have been re-released. Some of his short stories and novellas have also been published by House of Erotica whilst other works of his have been published by Xcite Books, Excessica, Forbidden Fiction, Greenwoman Publishing, Coming Together and Sinful Press.
Nano lives in Yorkshire in the United Kingdom.
Release blitz organised by Writer Marketing Services.