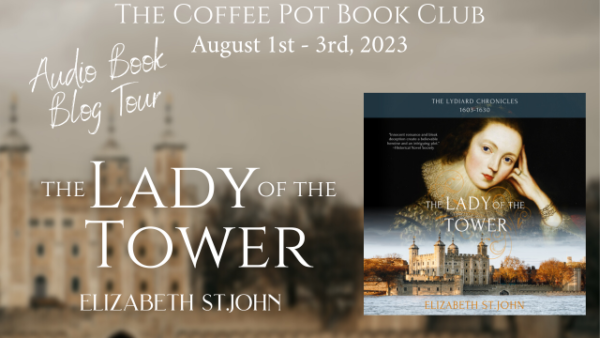 BOOK INFORMATION
Book Title: The Lady of the Tower
Author: Elizabeth St.John
Publication Date: 28th January, 2016 (print)
Publisher: Falcon Historical
Page Length: 395 pages
Genre: Historical Fiction 
Audiobook:
Narrator: Bridget Thomas
Publication Date: 8th May, 2018 (audio)
Audio Length: 14 hours 40 minutes
Official Audiobook Sample:
https://geni.us/LOTTAudioSample
BLURB
"Elizabeth St John has brought the Stuart Court vividly to life. She weaves together the known facts of Lucy's life with colourful scenes of fictional imagination, drawing on innocent romance and bleak deception to create a believable heroine and an intriguing plot." Historic Novel Society Book Review
"The Lady of the Tower is a beautifully produced novel with a well-crafted story that will keep you both engaged and entertained. A joy to read. Thank you for sharing your world with us." Writers Digest 24th Annual Book Awards
London, 1609. When Lucy St.John, a beautiful highborn orphan at the court of King James, is seduced by the Earl of Suffolk, she never imagines the powerful enemy she creates in his beloved sister, the Countess of Rochester. Or that her own sister Barbara would betray her and force Lucy to leave the court in disgrace. Spirited, educated, and skilled in medicine and precious remedies, Lucy fights her way back into society, and through an unexpected love match, becomes mistress of the Tower of London.
Living inside the walls of the infamous prison, she defies plague, political intrigues and tragic executions to tend to aristocratic prisoners and criminals alike. Now married into the immensely powerful Villiers family, Barbara unites with the king's favorite, the Duke of Buckingham, to raise the fortunes of Lucy and her family to dizzying heights. But with great wealth comes treachery, leaving Lucy to fight for her survival—and her honor—in a world of deceit and debauchery.
Elizabeth St.John's critically acclaimed debut novel tells the true story of her ancestress Lucy through her family's surviving diaries, letters, and court papers. Lucy's personal friendships with historical figures such as Sir Walter Raleigh and the Stuart kings brings a unique perspective to the history of seventeenth century England.
MY REVIEW
I gave this series (the ebook version) Five stars – beautifully written, filled with interesting and accurate historical detail, and very engaging. You can read my full review and see more of the author's ancestral portraits on my blog post from this past April:
 EXCERPT
Listen to the excerpt HERE, or feel free to keep reading, below.
Chapter Nine
Lydiard Park
I drew a deep, shuddering breath, my hand on my breast, feeling the posie ring concealed beneath.
"I can't bear it, Anne. I can't live this way any longer." I slumped into a chair, such a paralyzing emptiness overwhelming me that my tears were frozen. Although the afternoon sun warmed my chamber, my hands were icy cold. I had hidden my emotions for so long that only hollowness remained, and the loss of Theo's letters slammed the door shut on my soul. I hated the thought of Joan and Barbara reading his precious words, spitefully laughing over his declarations of love and his promises for our future. I did not care of their opinions of me, for I did not respect their morality, but to consider their envious suppositions tainted his writings disturbed me beyond words.
"Lucy, they are so terribly jealous of your happiness. It is horrible. I tried to stop them from forcing the lock on your box. I tried to prevent them from removing Theo's letters. I am so sorry I could not intervene." Anne's white face was pinched, her cheeks streaked with tears.
"It's not your fault, Anne. Don't distress yourself more. I do not know what I have ever done to deserve this treatment from them, but it has been this way since I was a child, and it appears it will never cease."
I looked around the familiar room, my sanctuary at Lydiard. The polished chestnut paneling glowed in the afternoon sun, and the vase of yellow roses on the chest emanated a heady fragrance that promised the long summer days ahead. Through the diamond-paned window shimmered the green parkland, where an ancient cypress tree marked the boundary of the bowling green and offered a shady resting place. All were loved by me with a passion that had sustained me during my exile at Battersey, and they became my refuge when I returned. Now they taunted me with an oppressive familiarity. I longed to be stripped of all the layers of family and emotions binding me to this place and to be free of the jealous web threatening now to strangle me.
"Anne, I need your help."
She lifted her head eagerly, her sweet expression expectant.
"Of course, Lucy, of course. I will tell John of Joan's cruel accusations. He will not believe her."
"No, leave John from this for now. He will not understand the woman's jealous heart that steers these resentful actions. No, it is something different that I ask of you."
"Anything, for I cannot bear to see you be the object of your sister's envy this way."
"You leave for Guernsey to visit your father next week. I would come with you."
BUY LINKS
The ebook is available to read on Kindle Unlimited.
Universal Buy Link: https://geni.us/MyBookLOTT
Audiobook Buy Links:
Available on BookBub Chirp for only $3.99 during August:
https://www.chirpbooks.com/audiobooks/the-lady-of-the-tower-by-elizabeth-st-john
On all other platforms from $7.99 or FREE with an Audible subscription:
AUTHOR BIO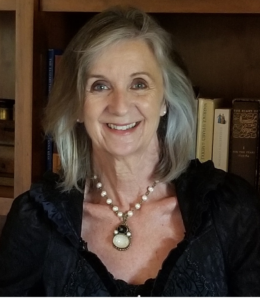 Elizabeth St.John's critically acclaimed historical fiction novels tell the stories of her ancestors: extraordinary women whose intriguing kinship with England's kings and queens brings an intimately unique perspective to Medieval, Tudor, and Stuart times.
Inspired by family archives and residences from Lydiard Park to the Tower of London, Elizabeth spends much of her time exploring ancestral portraits, diaries, and lost gardens. And encountering the occasional ghost. But that's another story.
Living between California, England, and the past, Elizabeth is the International Ambassador for The Friends of Lydiard Park, an English charity dedicated to conserving and enhancing this beautiful centuries-old country house and park. As a curator for The Lydiard Archives, she is constantly looking for an undiscovered treasure to inspire her next novel.
Elizabeth's books include her trilogy, The Lydiard Chronicles, set in 17th Century England during the Civil War, and her newest release, The Godmother's Secret, which explores the medieval mystery of the missing Princes in the Tower of London.
Social Media Links:
Website:  http://www.elizabethjstjohn.com/
Twitter:  https://twitter.com/ElizStJohn
Facebook:  https://www.facebook.com/ElizabethJStJohn
LinkedIn: https://www.linkedin.com/in/elizabethjstjohn/
Instagram: https://www.instagram.com/elizabethjstjohn/
Book Bub: https://www.bookbub.com/authors/elizabeth-st-john
Amazon Author Page: https://geni.us/AmazonElizabethStJohn
Goodreads: https://geni.us/GoodreadsElizStJohn