CRAZY TO BELIEVE / All's Crazy in Love Series Book 1, by Madison Michael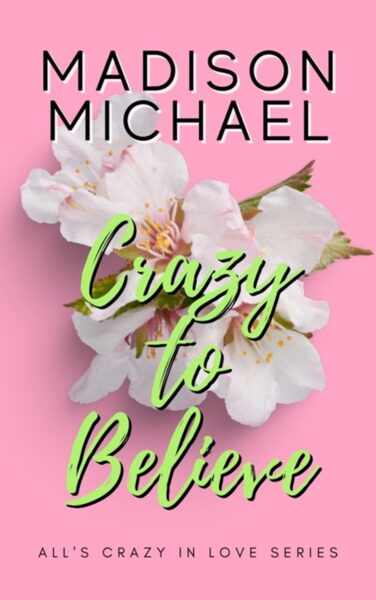 Tagline— She's Betting on Love and the Stakes are High.
Hashtags—#friendfiction, #BFFs,  #contemporaryromance, #romanceseries, #feelgoodromance #romcom #steamyromance
All's Crazy in Love Series Background
When eight friends from childhood reunite at their twentieth high school reunion, they realize they only see each other at weddings and funerals. This is unacceptable to friends as close as this. The answer—obviously—more weddings. To get the ball rolling, the lone married woman, Gabriella dares her friends to marry or else. When they laugh off her idea, she doubles down on her challenge and raises the stakes.
Gabriella doesn't care if Avery is so shy that she's hardly even spoken to a man, or that Rachel can't choose between the multitude of guys she sleeps with each month. Gabby ignores every argument, instead selecting the worst price for each of them to pay if they lose.
The Dare is on. The women open their hearts to every opportunity that crosses their paths, no matter how unlikely or elusive the man might be. They'll help each other – as long as it doesn't cost them the win.
Within weeks Avery finds a fellow cat rescuer, Sofia's heart flutters with new possibilities at work, and Willow spars and sparks with her horrible neighbor. Melinda has to be coached, but not Harper. After twenty years, she's finally flirting with her high school sweetheart.
All's Crazy in Love offers eight steamy romances—from first love to second-chance romance, from unexpected babies to unexpected attraction. Get to know eight wonderful women who find each other, themselves, and a chance to snatch the biggest prize of all—love.  Read these stories and more in the All's Crazy in Love series coming soon.
Travel with life-long friends as they discover love, test friendships, and race to cross the finish line.
Let the games begin…
Blurb—Crazy to Believe
The "Crazy Eights" have been best friends for thirty years, but they rarely get together. The remedy? An audacious dare contrived to bring them together for weddings—their weddings. Each participant must marry within twelve months or complete a personally mortifying task.
Meet Sofia, beautiful and brilliant, longing for a family. Starting over after a divorce, Sofia is focused on her career, not some foolhardy dare. She's set her sights on a new job, a new home and reluctantly accepting her single, childless status. Independent and determined, she can't foresee she will both win and lose her heart's desire in the next six months.
Jeremy Klein, genius engineer and inventor, is also making big life changes. He's sold his startup to become a billionaire CEO overnight. Unfortunately, his ego hasn't caught up yet, and despite family pressures and turning forty, he is gun-shy about returning to the dating game.
Then Jeremy meets Sofia. They bond over shared business interests and a chemistry that sizzles. Their attraction is immediate and so electrifying that a one-night stand quickly morphs into planning a future.
But plans can change. Accusations threaten to derail their relationship, Sofia's career and Jeremy's position. Spies, lies and misunderstandings abound until those "Crazy Eights" step in, scheming and manipulating to secure Sofia her happily ever after.
The stakes are high. Win the bet and lose your heart; or lose the bet along with your dignity. When the wager is nothing short of true love, are Jeremy and Sofia crazy to believe?
Excerpt
Mr. Brown Eyes got the message. Sofia watched as he swiftly disconnected from his conversation and sauntered her way. She loved how he moved, relaxed, fluid, and assured. He was a man on a mission. Mr. Tall, Dark and Sexy was every bit as good-looking as Nico. Better. He was classically handsome with high cheekbones and a broad forehead. He appeared serious, intelligent and thoughtful. He bore a straight, slightly hawkish nose, and full, kissable lips.
He was sinewy and graceful as a leopard moving in on his prey. His hair was rich, almost black and a little longer than the current style, longer on top and the back. As he drew closer, his smile widened, blinding her with perfect, white teeth in a face burnished by the sun.
His face was devastating up close – open and welcoming, with a hint of naughtiness in his smirk along with the promise of shared pleasures. But it was his eyes, deep coffee brown and fringed with long dark lashes that were his best feature; piercing, intelligent, inquisitive and currently trained on her.
Please, God, Sofia prayed quickly, do not let this man be the new sales manager. It would be awful if she needed to keep him at arm's length. He was the first man Sofia had felt drawn to since Nico. If she was honest with herself, he was the first man she had ever felt this attracted to so immediately. It was enough to make her believe in love at first sight or fate.
"Hi." He stepped closer, ignoring the empty stool beside her to halt just inside her personal space. Usually, Sofia would back up, but she savored his closeness, the power emanating from his presence. Even in this stuffy bar, he smelled good – fresh, like soap and good whiskey. And up close, his eyes were more magical, a hint of gold dancing in their depths.
"Hi," she responded on a breath, letting the single word hang there for a moment. "You aren't in sales, are you?"
"Nope." If he thought it was a strange conversation starter, he kept it to himself and his lack of response increased Sofia's tension. "I could be in sales for you," he offered in a voice smooth as brandy, redolent with sexual promise and a hint of curiosity. She laughed at his offer, tense for a better reason. "Are you in sales?"
"Yes, I am. I was thinking of what a crime it would be if you turned out to be my new boss. I'm meeting him tomorrow."
"Jeremy." He extended his hand to hers. "Not in sales. Is your boss named Jeremy?"
"Thankfully, not." Sofia savored the moment as Jeremy closed his long fingers around hers, his skin soft and warm. There was no wedding band. Sofia's relief was excessive. Everything about him captivated her. "Sofia."
"Sofia." He rolled the word around his mouth as if tasting a fine wine. "He was just saying words, but their underlying promise was undeniable. She wanted to be alone with him. She wanted to be naked with him. And all she knew was his first name.
"Is this seat taken?" he asked, already sitting down. "I am anxious to learn why you don't know who you work with, Sofia."
His every emotion was transparent, especially the desire flaming in his expression right now. A passion she reciprocated. Wholeheartedly. She couldn't fathom such an instantaneous attraction. But with Jeremy, she felt electricity and lust move through her entire body, just from the touch of his hand and the sound of her name spoken in his rich baritone.
The man would be thinking their flirtation would lead to sex. She should shut him down—she always had before. But with Jeremy, her body governed her head. She wanted more.
"So, spill." Jeremy leaned forward on his elbows, putting his mouth dangerously close to hers. Just a few inches, and they could be kissing. "I am dying to hear your story. I want to know absolutely everything about you." The way he lingered on the word 'everything' made Sofia wet. Oh man, she was in way over her head.
"Only if you reciprocate." She wondered where she found her voice and her nerve. "In detail."
"It's a deal.," he said, lowering his voice until she wondered what exactly he promised to share.
BUY LINKS— https://www.amazon.com/Crazy-Believe-Alls-Love-Romance-ebook/dp/B0BSDTLD2J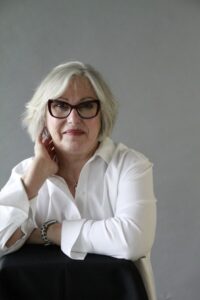 Bio— Madison Michael is living her dream as a romance writer. Born and raised in Chicago, she covered the four corners of the U.S, before returning to her roots, friends, family and the best pizza anywhere.
She loves cats, cat jokes and cat videos, anything with too much sugar, and everything writing. Author of the Beguiling Bachelor romance series, and several stand alone romance novels, she can be found living in Chicago, writing, eating sugar, pizza or hotdogs, surrounded by cats.
Newsletter— Become an insider here.