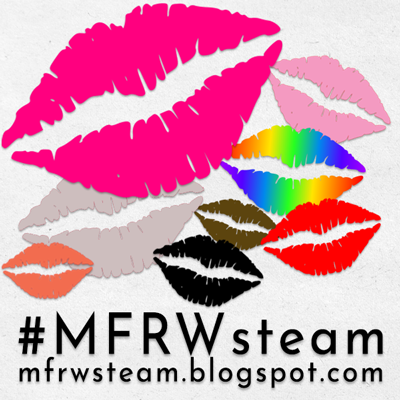 Welcome to the MFRW Steam Hop,
where the authors of Marketing for Romance Writers
entice you with steamy excerpts from their erotic romance stories.
Scroll to the end for more of this week's tempting excerpts
For today's steamy except, I'm drawing from a book we're currently promoting to celebrate this spring's horse racing Triple Crown. All four novels in our romantic suspense series Riders Up are on sale for just 99¢, now through mid June. Heat Wave is Book Two in the series.
EXCERPT
SetUp: The temperature is scorching, the sexual tension is even hotter, the kitchen faucet leak is steadily dripping, and Maggie's kids are away at summer camp. Maggie and Ed are in the kitchen studying pedigrees and bloodlines of potential broodmares when the dam breaks.
Maggie moaned softly when Ed easily picked her up and laid her on the kitchen table. Sale catalogs and pedigree charts tumbled every which way.
Ed leaned over to kiss her lips, her neck, and then her breasts. Each breast received equal oral attention: each orb washed, each nipple stroked to full extension, each crown suckled.
Clasping her bare legs tightly around his bottom, Maggie rocked back and forth. Ed smiled when she pressed his head gently downward. He needed no more encouragement. With his tongue he traced a trail across the rivulets of perspiration forming on her flat stomach.
"I'm not a yearling filly to be gentled," she squealed huskily. She applied more encouraging pressure to his head.
"I'm not very calm," he muttered, moving his tongue lower still. Her sex opened before him. The soft fleece of golden ringlets was already soaking, and not just from the humidity.
He breathed deeply, sucking her scent into his lungs, never wanting it to escape. She tasted slightly salty. He would never get enough of her. His tongue searched further. Her legs jerked; her thighs squeezed. He paused for air.
"Oh my God," she screamed. "Don't stop now!"
In response, Ed slipped two fingers into her cleft. Spreading her thighs wide, wiggling her bottom, she offered him a better angle. He probed deeper while his tongue tapped her clit. Repeatedly, he rhythmically grazed and licked her engorged flesh.
* * * *
Through the hazy fog of her mind, Maggie became aware of what Ed was doing. His subtle, sensual movements matched the beat of the faucet drip. Excruciating. Exhilarating.
She waited. He flicked his tongue and plunged his fingers. Maggie moved closer to the edge. As the faucet dripped, he continued his excruciating pace. This was different. She'd never before been played like some erotic instrument. The edge was near. She was the edge.
Shaking uncontrollably, she felt her release cascade through her body. When at last she hunched forward on her elbows to peek through teary eyes at Ed's head resting on her belly, Maggie ginned lazily. "What a way to beat the heat."
REVIEWS
Goodreads: Five Stars: Heartfelt with mystery and hope…made me cry. Spot on interplay between the main characters…well written and extremely enjoyable to read. Donna H.
Amazon: Five Stars: I felt like I was on a roller coaster reading this story! Laughing one second, then felt like crying the next, always on the edge wanting to know what is going to happen next. Amy B.
BUY LINK
99¢ SALE
http://www.amazon.com/dp/B00JZ6GW6G
BOOK INFO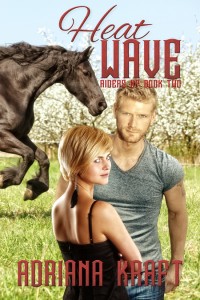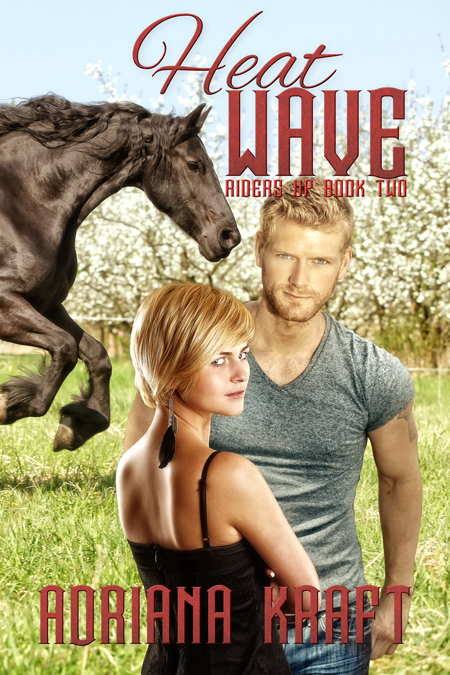 Title: Heat Wave
Series: Riders Up, Book Two
Can be read as a stand-alone
Author: Adriana Kraft
Publisher: B&B Publishing
Publication Date: April 30, 2014
ISBN 978-0-9907476-2-8
ASIN B00JZ6GW6G
Length: 93,000 Words   418 Pages
Genres: Romantic Suspense, Erotic Romance, Sports Romance
Pairings: M/F
Tags: Horse Racing, Thoroughbred Racing, Small Town, Saving the Farm, Young Widow, Horse Trainer
Heat rating: 3 flames
BLURB
During an oppressive Iowa summer of drought and farm foreclosures, widowed Maggie Anderson makes a bold decision: She'll merge her love of horses and her family's three hundred and twenty acres into a horse farm and try her hand at nearby Prairie Meadows Racetrack, where racing purses have just been augmented by the recently added casino gambling.
Down on his luck after being falsely accused in a racing scandal and banned from training, former Arlington Racetrack trainer Ed Harrington has skulked home to Des Moines to drown his sorrows and wait for the dust to clear. He's unprepared for the piercing robin's-egg-blue eyes of pint-sized Maggie Anderson, who finds him at a flophouse and offers him a job. Can he pull himself together and meet the challenge?
As the two forge a tumultuous working partnership, they soon discover someone is out to get Maggie's farm and will stop at almost nothing to force her off the land. Can they find and stop the culprit before someone is killed? Can they survive the far greater danger unleashed by the raw passion simmering just beneath the surface of their relationship?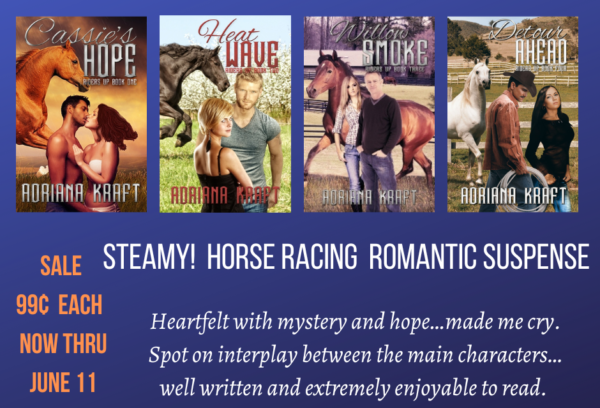 This is a Blog Hop – click on the links to travel to the other steamy posts!