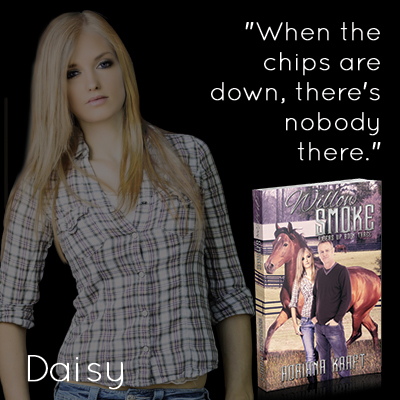 Welcome to Snippet Sunday – ten sentences from all your favorite romance authors! You'll find them all at this Facebook Group every Sunday:
https://www.facebook.com/groups/SnippetSunday/
Did you watch yesterday's Preakness? Mage – the Kentucky Derby winner and the Preakness favorite – came in third. The winner, National Treasure, hadn't qualified for the Derby, so beating Mage was no small accomplishment. Hopes for a Triple Crown winner were dashed with Mage's loss, but the third leg – the Belmont, coming up in three weeks – should be an interesting race!
Our four book romantic suspense series set in the world of thoroughbred racing will remain on sale for 99¢ each until after the Belmont – todays Snippet is from the opening lines of Willow Smoke, Book three in the series.
EXCERPT
Chapter One
"I won't let anything hurt you." Daisy Matthews finished wrapping the ankles of the chestnut mare and sat back on her haunches to evaluate her work. The mare's ankles were cooler than they had been two hours earlier.
It wasn't easy to convince a horse to stand in buckets of ice, but after three years of being a groom and an exercise rider, she could do it about as well as anybody at Arlington Park. At least that was what her boss said when he promoted her to assistant trainer.
Daisy grinned. There wasn't much prestige associated with being an assistant trainer for a fellow with a string of only twenty-some claimers and allowance horses, but it was something, particularly for a girl from the wrong side of the tracks.
RainbowBlaze took a step forward. "I know." Daisy groaned. "Step one: pay attention. Sorry, I got lost daydreaming. You're right. Taking care of you is an important job." She chuckled. "I can't think of anything I'd rather be doing."
"Hey kid, doyou always talk to horses?"
BUY LINK
99¢
BOOK INFO
Willow Smoke (Riders Up, Book Three)
B&B Publishing
ISBN: 978-0-9907476-0-4
ASIN: B00N0DH13I
Genre: Romantic Suspense
Tags: Horse Racing, Age Gap, Sports Romance
Heat rating: three flames (explicit sex, m/f)
REVIEWS
Five stars at Amazon "Adriana Kraft has created memorable characters that linger long after the story has ended and I've closed the book. She has done what an author should—brought me into the book's world and made me care about the characters so that my world will not be the same as before their foray into it." Sheila G.
Five stars at Goodreads "Suspenseful, intriguing and truly romantic! What a fabulous story of the blending of two worlds… the plot twists and turns and keeps you on the edge of your seat and the pages turning." Risha C "…dreams can become reality, love can transcend age… Exciting, engaging and very entertaining story. The character interplay is spot on and the story is extremely well written." Donna H.
BLURB
When the chips are down, there's nobody there. Willowy blond Daisy Matthews has survived the Chicago streets with this mantra but is unprepared for the much older Nick Underwood's urgent pursuit.  The wealthy businessman receives a thoroughbred in payment for a bad debt and is thrust into Daisy's world.  She teaches him about horse racing; he teaches her about love.  When Daisy's seamy brother-in-law threatens Nick's safety, she doggedly tries to stop him by herself, but flees to the familiar streets when he attacks. Can Nick find her in time – and if he does, will she still want him?