…so life happens, and I missed TBT yesterday, but meanwhile, with our car in the shop so long, I got to drive a hot fire-engine red Mustang for a couple days!
Better late than never, here's our Throw Back Thursday post for a backlist book: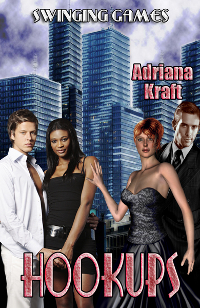 Do you ever fantasize about what it might be like to be in the swing lifestyle? We think lots of couples have this fantasy without ever taking the plunge and getting involved, and that's part of why we've written an entire series about it. Swinging Games, with fifteen novellas, is the story of an empty-nest couple who get curious and decide to try it out. The series is a safe way for wanna-be's to dip their toes in and find out more. A great way to feed those fantasies, even if they never lead any further!
We've visited several swing clubs and talked with lots of swingers, and they tell us our series is spot-on accurate about some of the best of what the lifestyle has to offer. Hook Ups is our fictional couple's first date in the lifestyle – the first time they have a sexual adventure with another couple. We should add that first "dates" don't always lead to play – often couples who've decided to meet plan a "meet and greet" first, to figure out if they'll really want to get up close and personal. Fortunately for our couple, the answer this time is yes.
BLURB
Friends with benefits – a brand new world opens up for Jen and Brett Andrews in the enticing but unpredictable world of swinging. Will Pam and Rick be all they've hoped for? Will Tom and Linda disappear after chatting them up? What about Carl and Alice? Fantasies and new hookups fuel the fire of lust and excitement, but what will happen to their marriage?
EXCERPT
Trying to keep the obvious lust from his eyes, Brett nodded and smiled at Linda, who was eyeing him boldly over her wineglass. She sipped her wine and shuddered slightly as the liquid slid over her palate. Brett's breathing tightened when she chuckled softly and set the glass down on the table.
"We're glad you agreed to meet us on rather short notice." Linda's white teeth glistened and her dark eyes snapped. "Sometimes good things can come from cancellations."
"That was lucky for us," Brett said. "I can't even recall the names of the couple that bailed on us. Pictures don't do you guys justice." He knew that must sound like a hackneyed line, but he meant every word. Even attired modestly in a blue blouse and black slacks, Linda projected that confident sexy air that never ceased to arouse him. She glowed a mixture of eroticism and exoticism that was nearly spellbinding.
He reached down and briefly squeezed his wife's fingers, which had been doing a tap dance on his inner thigh—their sign that this was a couple with whom she wanted to play. Stifling a chuckle, he blew a kiss at her. They hadn't even been served yet. Sometimes Jen could be quick with her judgments, but then there'd been little doubt since their first contact on the swing site that they'd want to play with the couple from Louisville. It still wasn't clear if the chocolate-skinned female and her tanned husband would want to play with them, but Brett sure hoped so.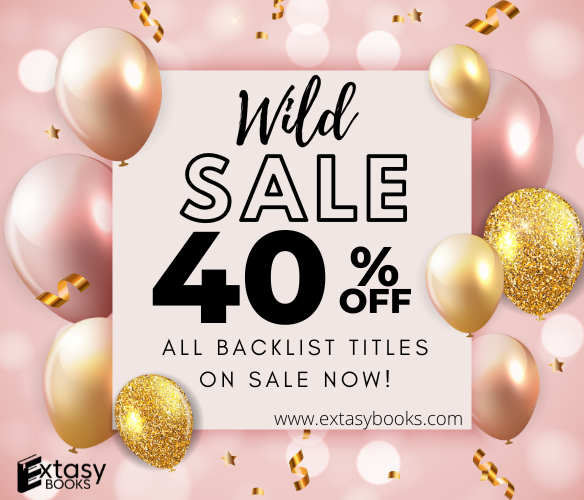 BUY LINKS
On Sale at Extasy Books
$2.40 https://www.extasybooks.com/hook-ups
It's easy to download Extasy books to your Kindle. "Send to Kindle" instructions are at the top of the page at the Extasy Facebook Reader Group, Book Carousel. While you're there, we'd love to have you join us—theme days, author events, games, prizes, plus a chance to get to know all the wonderful Extasy authors.
Other Retail Outlets
$4.99 https://www.amazon.com/dp/B003XREY9A
$5.99 https://www.kobo.com/us/en/ebook/hookups