Welcome to Snippet Sunday – ten (or so) sentences from all your favorite romance authors! You'll find them all at this Facebook Group every Sunday:
https://www.facebook.com/groups/SnippetSunday/
By this time next week, the 2023 Belmont will be history – but our four horse-racing romantic suspense books will be on sale for 99 cents each through June 15. Be sure to grab yours before the price goes back up!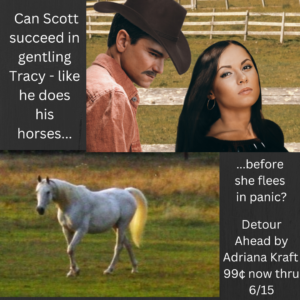 A few weeks back I shared a photo of the last horse we owned – a half arabian, half saddlebred foal, nuzzling his mother not long after his birth. Here's another photo of him, age 10, coming across the field to greet my husband.
His name was Ransom, and we gave him a role in Book Four, Detour Ahead.
EXCERPT
Tracy's spirits lifted immediately when she saw the half Arabian Saddlebred. He was a beautiful specimen, with a nicely arched neck and a tail that rose when he trotted. When he noticed them approaching, he whinnied softly and advanced toward them at a slow trot. Horse people called that gait a trot, but she thought the word prance captured much more the mood and presence of this animal. While not yet fully grown, he was certainly fully into himself.
This was the fourth morning they'd worked together. Traci confessed she preferred working with a horse from the ground rather than from its back. Without incident, she attached the halter. With a modest amount of confidence, she led Ransom into the corral and stopped in front of Scott.
"Good job," he praised, rubbing his hand across the colt's muzzle. "Why don't you take him through his paces? Go around clockwise and then counterclockwise. Bring him to a halt with the whoa command, tugging gently on the lead rope twice first to get his attention. He wants to please—you can see that in his eye. But he can't if we don't communicate our wishes."
BUY LINK
99¢
BOOK INFO
Detour Ahead (Riders Up, Book Four)
B&B Publishing
ISBN: 978-0-9907476-5-9
ASIN: B00RPT6YJA
Genre: Romantic Suspense
Tags: Horse Racing, Sports Romance, Cowboy, hot-shot lawyer, bribery
Heat rating: three flames (explicit sex, m/f)
BLURB
Threatened race horses, city slicker attorney, sexy California wrangler—what can possibly go wrong?
Hot-shot Chicago prosecuting attorney Traci Steele works tirelessly keeping rapists off the street to prevent other women from suffering the hell she's endured, so she resists her friends' insistence that she take a two month R&R in their California Live Oak condo—until they persuade her to help their rancher friend as a private investigator.
Though he runs the stables at Live Oak, well-muscled mustached wrangler Scott McCord much prefers working with the racehorses he trains at his ranch, and he can't believe his old friends have sent a greenhorn female to help him with horse troubles.
The improbable dance between this mismatched pair barely fits in around the escalating suspense of whoever's after Scott's horses. Traci is as tenacious in her sleuthing as she is terrified about her inability to ever love a man. Can Scott succeed in gentling her – like he does his horses – before she flees in panic?