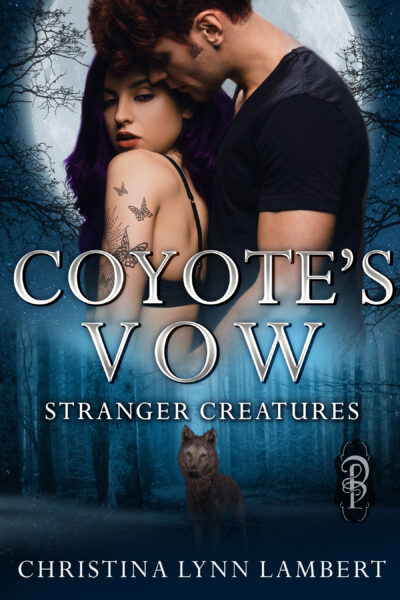 When a deranged doctor has disturbing plans for shifters and psy,
can Trevor and Kylie stop him, or will they be silenced forever?
Book INFO
Book: Coyote's Vow (Stranger Creatures book 4)
Author: Christina Lynn Lambert
ASIN: B0BZT58GXZ
Publisher: Decadent Publishing, LLC
Release Date: March 28, 2023
BLURB
Kylie Claremont wants answers. She was the victim of a brutal experiment that caused her to develop telekinetic abilities. The position she's offered as a liaison between Shifters United and the Psy Guild will give her the chance to find the elusive research company that disappeared after experimenting on her and bring them to justice. The only thing standing in her way is an arrogant coyote shifter who is convinced that Kylie is a threat to shifters and shouldn't be allowed to be a part of Shifters United. She never expected to fall for the gruff, mistrusting man.
Coyote shifter Trevor Ryland will never trust the psy. Still, he knows the time has come to strengthen the tentative alliance between shifters and psy. He fully intends to ignore his attraction to the beautiful psy liaison, but he'd never forgive himself if something happened to her. His plan to protect Kylie from afar is wrecked when they're forced to work together. She could be his mate but Trevor can't let that happen. The struggle to deny his need for to the one woman with the power to destroy him gets harder every day.
Trevor and Kylie uncover a web of greed and deceit during their search for the travelling research group. They'll have to work fast and fight hard to stop the CEO's latest plans or psy and shifters everywhere will suffer.
Excerpt (R rated):
When Kylie looked up at him, his resolve to keep his distance from her shattered to the ground and dissolved into dust. He growled and pulled her against his chest. Her kiss sent his mind spinning. Her mouth against his wasn't enough. He needed more. He needed everything from her but he'd have to limit himself to one night. One time. She wasn't a shifter so she wouldn't recognize him as being a possible mate. She would never have to know.
She took him by the hand and led him to the bedroom. In a flurry of kisses, they hit the bed. He unbuttoned her silky red shirt and kissed the smooth skin at the pulse point of her neck. His fangs itched to give her a bite but he refused. He nipped at her throat and licked and nibbled his way down further. When he got to the space below her belly button, she let out a little moan. He looked up and met her gaze.
Her eyes were bright and the scent of her desire filled the air. He breathed deep, trying to get some control over himself but still, his fangs descended to their full length. He knew his irises had become the dark, deep green of Coyote. She didn't look scared though. She must have heard some things about the intensity of shifters when they were turned on.
He tossed her lacy purple bra to the ground but teased her by kissing her belly, then the side of her breast, even her cheek, until she guided his head back to her breasts. He ran his tongue over her beaded nipple then gave it a gentle bite. Her breathy "yes, please!" nearly drove him wild. She grabbed the back of his head and held him in place so he could give her nipples proper attention. He liked that she knew what she wanted from him.
What if it didn't matter that he was a shifter and she was psy? He needed so much more from her than one night. She pulled off his shirt and lightly ran her nails down his back. He groaned in anticipation. When she undid the top button of his jeans, he could barely think straight. He needed to get back in control of the situation. Fast.
He placed his hands over hers, stopping her from going further. He shook his head. "You first."
Purchase Links:
Amazon: https://www.amazon.com/dp/B0BZT58GXZ
Barnes and Noble: Coyote's Vow by Christina Lynn Lambert | eBook | Barnes & Noble® (barnesandnoble.com)
Google Books: Coyote's Vow by Christina Lynn Lambert – Books on Google Play
Kobo Books: https://www.kobo.com/us/en/ebook/coyote-s-vow
Smashwords: https://www.smashwords.com/books/view/1370196
Author Bio:
Before I had the wild idea to write a book, I worked in a few different fields. I was in sales for a while, and after I finished college, I worked as a case manager. When my children were little, I was a personal trainer and running coach. During the evenings, when I was supposed to be studying for another fitness training certification, I started writing a story. Finally, I gave in and acknowledged that writing is what I'm meant to do. I love creating imperfect but determined characters who find the courage to love and the strength to survive in a world where there are no guarantees. My stories include a fair amount of sarcasm, suspense, steam, and violence. When I'm not writing, I enjoy spending time outside and finding ways to avoid cooking. I live in beautiful Virginia with my husband, two teenagers, a sweet, hairy monster of a dog, and two devious cats.
Author Social Media Links:
Amazon Author Page: https://www.amazon.com/Christina-Lynn-Lambert/e/B01MCYK0K7
BookBub:  https://www.bookbub.com/authors/christina-lynn-lambert
Facebook: https://www.facebook.com/christinalynnlambert
Goodreads: https://www.goodreads.com/author/show/15900423.Christina_Lynn_Lambert
Instagram: https://www.instagram.com/christinalynnlambert
Twitter: https://www.twitter.com/chris4lamb
WordPress: https://christinalynnlambertwordpress.com