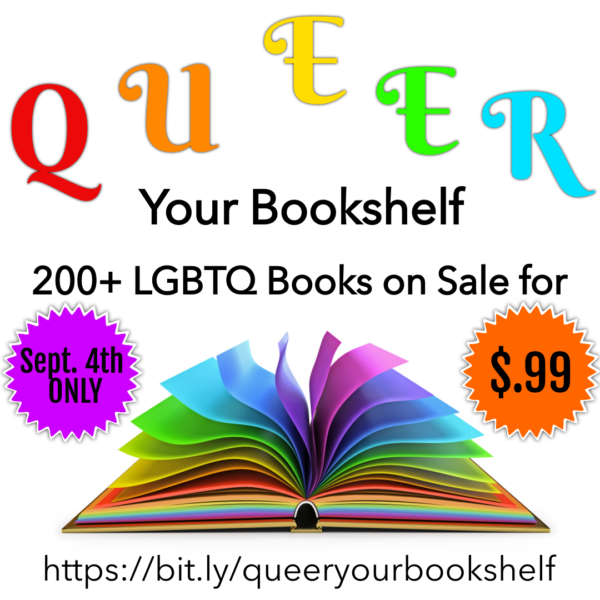 Good Morning! It's 12 AM Eastern Time September 4 in the USA, and the SALE is ON!
260 LGBTQIA Books on sale, just 99¢ each – you know you don't want to miss it!
HERE'S THE SALE LINK TO ALL BOOKS:
The sale page is easy to navigate – organized by genre and pairing, and you can use Ctrl/F to search for any title or author name if there's one you want to find.
I have two books in the sale, and several favorites from other authors to recommend.
The Reunion by Adriana Kraft
A dark and brooding bad boy, his petite Latina lover, and his unattainable former high school crush ~ a sizzling, combustible threesome.
Genre: Contemporary Romance
Pairing: FFM
Tropes & Tags: Bisexual, Polyamory, Threesome, Erotic Romance, Three-way, Poly Triad, Love Is Love
The Lady Wants More by Adriana Kraft
Free spirit Brenda Cassidy is comfortably bisexual with no plans to settle down. But a fling? When her college lover Janet Baxter turns up at their twentieth reunion, Brenda can't resist seducing her.
Genre: Contemporary Romance
Pairing: FF
Tropes & Tags: Erotic Romance, Second Chance, Later in Life, Saphic Romance, Lesbian Romance Amazon
And fill up your bookshelf with some of the great authors below:
By Moonlight by Lisabet Sarai
Bess has little time to dream of adventure as she labors to keep her abusive father satisfied. Then she meets a handsome dandy who turns out to be notorious French highwayman. Well-aware of the risk she's taking, Bess still offers herself to the seductive outlaw.
Genre:
 Historical Romance
Pairing:
 FF
Tropes & Tags:
 cross-dressing gender-bending adventure outlaw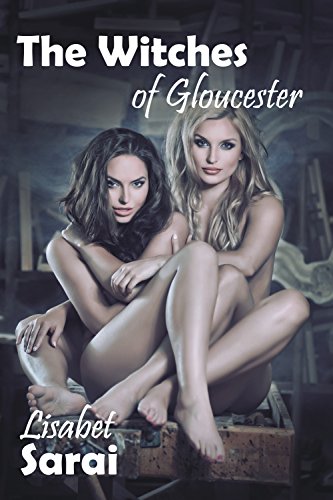 The Witches of Gloucester by Lisabet Sarai
For decades, Marguerite and Beryl have used love and sex to fuel their supernatural abilities. B to reach their full potential, they need a third witch to complete their circle. From the moment Emmeline arrives, they sense her erotic vitality and unrecognized paranormal talent.
Genre:
 Paranormal Romance
Pairing:
 FFF
Tropes & Tags:
 history, magic, Midsummer Night, Gloucester, erotic romance, threesome, lesbian
Surrender Love by Kayelle Allen
Being dumped broke Luc's heart; public humiliation crushed it. Online betting laid odds how soon the wealthiest man in the Empire would fall in love. How about never? But then Luc met Izzorah…
Genre:
 Science Fiction Romance
Pairing:
 MM
Tropes & Tags:
 bad breakup, coming out, hurt/comfort, rescue, healing
Knotty Valentine by Amity Malcom
Knotty Valentine is a fast-paced, spicy, shibari themed sapphic novella that will have you laughing out loud, swooning from the heat, and wanting to be all sorts of tied up.
Genre:
 Romantic Comedy
Pairing:
 FF
Tropes & Tags:
 WLW, Sapphic Romance, Shibari, Kink Exploration, One Night To Forever, Instalust
Reluctant Rockstar by Frances Fox
Martin is tired of never being home, never being able to be himself. Simon's not sure about his new job for a rock legend. A tired rockstar and a judgemental gardener. What could possibly go wrong?
Genre:
 Contemporary Romance
Pairing:
 MM
Tropes & Tags:
 rockstar, hurt-comfort, found family
Fairy Promise by Elizabeth Dunlap
While investigating her brother's new magical friends, Bailey crosses paths with a captivating witch that she can't stay away from. When that witch saves her life, Bailey has to grant her deepest wish. But what if that wish is for Bailey to stay by her side forever?
Genre:
 Paranormal Romance
Pairing:
 FF
Tropes & Tags:
 fairy romance, witch romance, fairy witch romance