Today's the day! Seducing Cat, Book One in our Meghan's Playhouse series, is now available at Extasy Books!
What could college English Professor Caitlin Shanahan
ever have in common with the brash carpenter Kurt Davis?
The sexy sprite Meghan Keenan, that's what.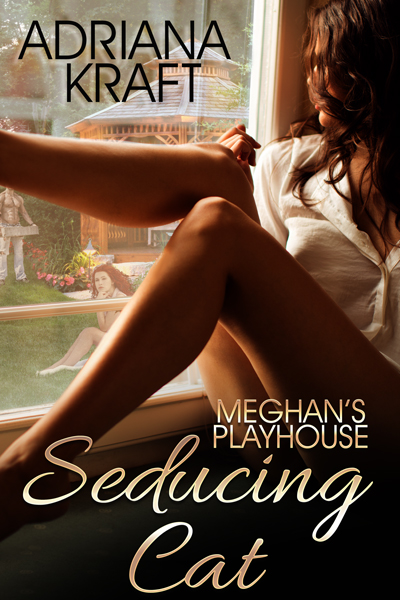 We're thrilled Extasy Books is re-releasing this series, which has been unavailable for over four years. We started writing it as an erotic romp, but quickly learned all three characters insisted on having more meaning. Two of them already love sex, of course – Meg, and her swarthy lover, the carpenter.
Cat? She's pretty much given up on sex – but then Meg, who rents a room from her, starts sunbathing in the nude. Who knew the feminine form had so much allure? Turns out all three characters have a lot to learn.
Meg's only twenty as the series opens, and we had a fun time watching her mature and find her way as the series progresses. We think you'll enjoy her adventures, and we've added a new adventure this time around, bringing the series to six books in all.
BLURB
Level headed English Professor Caitlin Shanahan has finally earned tenure and purchased the century-old two-story house of her dreams in the college town of Burntside, Wisconsin—at thirty-four, she'd better face facts: her future is teaching college and writing plays, not falling in love.  So why is she so drawn to foxy little hometown actress Meghan Keenan, who's rented her upstairs apartment, or worse, to the girl's gorgeous hunk of a lover Kurt Davis, a carpenter who's never even been to college?
Twenty-year-old Meg has a plan. First she'll seduce the reluctant professor, then she'll share her sexual delights with both Cat and her brawny carpenter, and when she's successfully brought them together, she can make her escape and explore what's beyond the only town she's ever lived in.
Kurt can't stand the up-tight professor who's hired him to build a gazebo and refurbish her old house—the house he wanted for himself. Even if Meg's scheme succeeds, he knows Caitlin would never look at him twice.  No need to go there in his fantasies…
BUY LINK