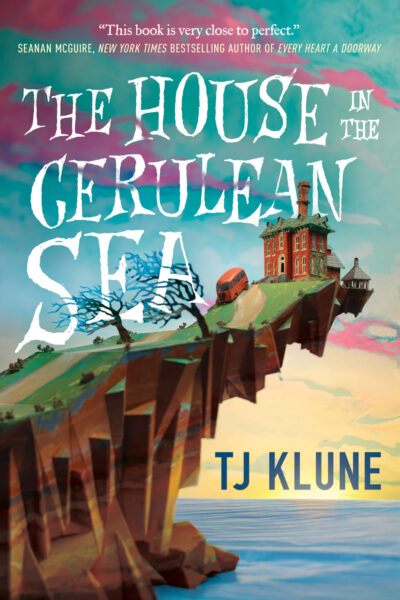 Can a book be simultaneously extremely subtle and dynamically shocking?
Yes. The House in the Cerulean Sea is such a book.
This is a long story, so bear with me.
If you're not on Instagram, you might not be aware that over the last couple weeks, vast numbers of authors, reviewers and bookstagrammers began posting notice that they are a Safe Place for the LGBTQ+ community. Check out the hashtag #RainbowStack if these are peeps you'd like to follow.
I missed the event that triggered the outpouring of support, so I have no idea who or how many people said what or when. But the confluence of that heartwarming response and a book I've been wanting to write about sent me to put these words on the page.
I belong to a monthly Zoom book group with a select few of my friends, both so I make sure to catch up with them every month, and so that I stretch my pleasure reading outside the bounds of what I might choose by myself. I haven't been disappointed.
I had no idea what I was in for when our group selected this book, recommended by another member. I have a gay son, a grandchild in transition, and many LGBTQ+ friends. I conceptualize myself, my writing, and my life as a "safe place." Most of the novels and novellas I co-author with my husband under our pen name feature Happily-Ever-Afters for bisexual woman.
This beautiful and magical book challenged me in a way I didn't anticipate.
My conflicting response manifested almost immediately: I'm not a fan of pudgy bureaucrats who don't take care of themselves and appear not to have a life. But I immediately felt a kinship with the main character when, in the opening scene, he stood up for the magical child who could levitate and deserved love and safety.
I do love magic. I'm familiar with lore about sprites, phoenixes, trolls, and magical abilities like levitating and shape shifting. I kept reading because, like the main character, I wanted safety for these children, and also because I'd promised to finish any book our group started.
I'm not going to say much more about the plot or outcome of the book. For me, its power is the meta message that took its sweet time settling into my brain: Love is love is love, and it is not mine to judge. I've known that message forever, it feels like, about LGBTQ issues. The sweep of this book is far larger. It's about love and acceptance not only for weirdly magical children, but for nondescript ordinary people of whatever ilk, especially those who are raising their voices for any who are discriminated against.
The world in which I write is the e-pub world, and as a KU subscriber, it's a world I primarily read in. The E-pubbed and indie-pubbed world is filled with well written and beautifully crafted stories featuring LGBTQ+ characters. I write a monthly column featuring those stories for the Sweet 'n Sexy Divas blog.
In contrast, The House in the Cerulean Sea is a mainstream NYC publishing house release, brought out by Tor (long a leader in pushing boundaries), which is an imprint of MacMillan publishing. I'm so pleased for that.
So I hereby declare my books, website, blog, Twitter, Facebook and Instagram to be a safe place, not just for the LGBTQ+ community, but for pudgy bureaucrats who don't take care of themselves and deserve a happy ending, whether they are straight, queer, magical, or some other label outside the norm.
About the Author:
TJ KLUNE is the New York Times and USA Today bestselling, Lambda Literary Award-winning author of The House in the Cerulean Sea, The Extraordinaries, and more. Being queer himself, Klune believes it's important—now more than ever—to have accurate, positive queer representation in stories.
Author Website: https://www.tjklunebooks.com/
Where to find this book: