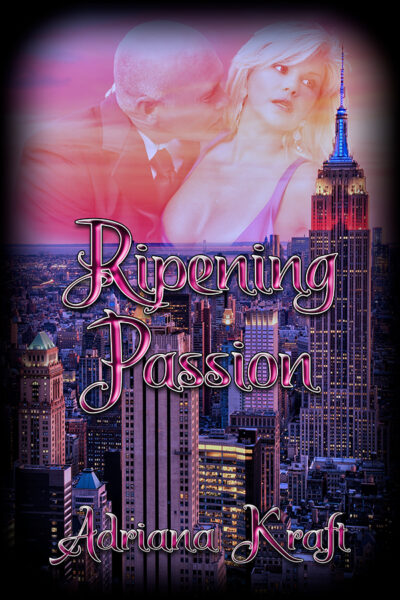 Cover artist Martine Jardin did a marvelous job placing the story in New York City and capturing our svelte, icy heroine and her nemesis.
Ripening Passion releases at Extasy Books next Friday and will be available at all your favorite e-book vendors within a week after that.
https://www.extasybooks.com/Ripening-Passion
BOOK INFORMATION
Title: Ripening Passion
Series: Passion Series, Book Two
Author: Adriana Kraft
Published by: eXtasy Books
ISBN: 978-1-4874-3813-5
Length: 254 pages, 75813 words
Publication Date: June 2, 2023
Genres: Erotic Romance, LGBTQIA, Contemporary Romance 
Tags: Menage, Bisexual, New York City, Later in Life
Heat Level: Four Flames
Pairings: MF, FF, FFF, FMF, MFM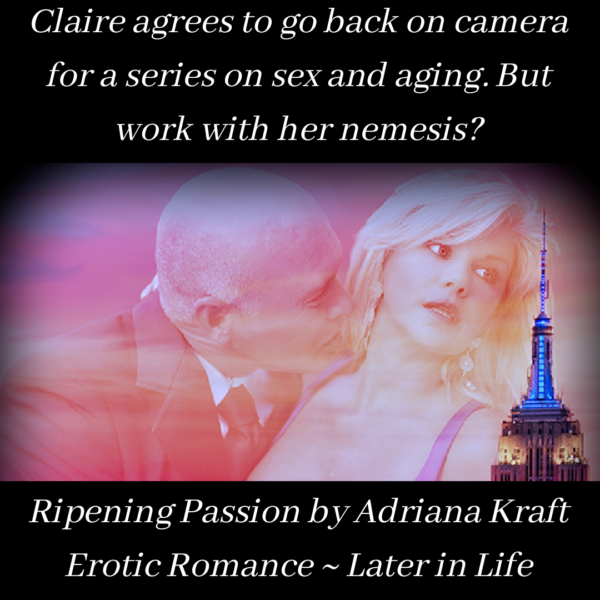 BLURB
Can Max melt the Ice Queen? Should he even try?
Claire Johnson's dedication to sex—the cornerstone of her career—led her to help found the Center for Sexuality and Sex Practices. Now in her fifties, she knows the Center must keep pace with the rapidly growing Baby Boomer market, so she agrees to go back on camera for a series on sex and aging. But work with her nemesis?
Former English Professor Max Wilson has championed the cause of the Center ever since his now deceased wife sought the Center's help to rekindle the nearly extinguished sexual flames of their relationship. He loves working on camera and welcomes the challenge to perform with the svelte but icy temptress.
Sparks fly immediately on and off camera. The jury is out on whether either Max or Claire can transform those sparks into a fire of sexual desire for their viewers—let alone for each other.