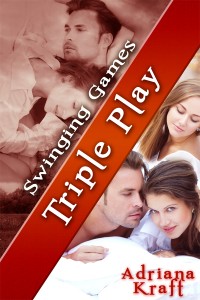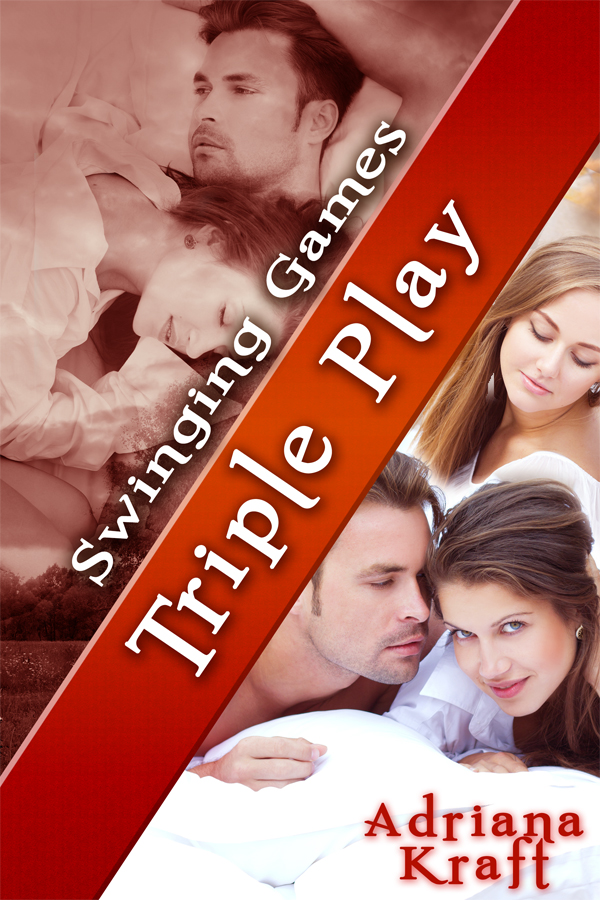 Series: Swinging Games, Book Ten
September, 2012    ISBN #:978-1-77111-306-9
Novella, 13,000 words
Cover by Carmen Waters
Threesomes are so tempting…but can they last? 
Heat Rating 





 Explicit sex: M/F, F/F, M/M; Ménage: M/F/F. F/M/F, Multiple partners; Anal sex; sex toys.
BUY LINKS:
BLURB
Summer looks full of promise for swingers Jen and Brett Andrews—ever since Sarah Creston's arrival, three-way possibilities for mind-shattering sex seem endless. Secretly, Jen's a little pleased their best friends Donna and Ryan Powers still aren't speaking. This way, Jen doesn't have to share.
Thrilled with her new lifestyle, Sarah makes up for lost time and wants to taste everything—but even she can feel the rift. Ever classy, Sarah resolves to do what's right and reach out to Donna, no matter the risk. Can she prevent the train wreck, or will Jen and Donna derail her efforts? And if she succeeds, would some three-way makeup sex with the two women be too much to hope for?
SEX TOY SCENE
The three women are featured together in this special excerpt at Sex Toy Reviewer Nymphomanic Ness  
EXCERPT
Sarah tugged anxiously at the flimsy halter top she'd thrown on with her shorts for her mid-morning run. Now, standing on Donna Powers' front lawn withstanding Donna's withering assessment, she wished she'd at least taken time to put on a bra. But one advantage of her height and smallish breasts was the ability to run freely without the constraint of straps. She loved the freedom of unfettered running. She'd often wished she could run naked, but never dared try that.
She hadn't really planned on saying hi to Jen's neighbor this morning—though if she were honest with herself, maybe she had. This festering relationship between Jen and Donna had to come to a head, and she hoped she might be in a position to make it do so. She desperately wanted to accomplish that feat before she had to leave for the new academic year. After all, she'd inadvertently caused the split in the first place.
Her nipples hardened under the voluptuous blonde's stare. Sarah caught herself wishing Jen's lover hadn't bothered with a bra either. Even so, she thought she detected the rising shadows of round nipples faintly showing through Donna's blouse.
"I should have introduced myself earlier," Sarah said, extending her hand. "I'm Sarah Creston."
"I know who you are," Donna said stiffly, peering over her shoulder toward Jen and Brett's house across the street. She shook her head and heaved an exasperated sigh. "Oh, hell. My beef isn't with you. It's with my so-called best friend."
Sarah recoiled. "Jen doesn't want to lose you," she blurted out. "But she's very stubborn. You must know that."
Donna's scowl softened a little. "I know that very well. Guess we both share that trait."
"So I've heard," Sarah said, raising an eyebrow. "Now that we've met, I just want you to know I don't want to be the cause of some sort of permanent rift between you two. I know what it's like to lose a best friend."
Donna nodded. "This isn't the first fight Jen and I've had." A hint of a grin played at the corner of her mouth. "But it is the first fight over another woman."