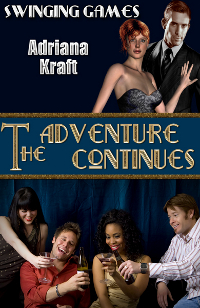 Series: Swinging Games, Book Five
Extasy Books: EBook
January, 2010      ISBN: 978-1-55487-472-9
Novella, 14,000 words
Cover by Martine Jardin
Seasoned swingers by now, Jennifer and Brett Andrews seize the moment, stage a party and welcome a request to mentor a new young couple.
Heat Rating





 Explicit sex: M/F, F/F; Ménage: M/F/F, four way, multiple partners; anal sex; sex toys.
BLURB
It's been great hooking up with their long-time best friends, but Jennifer and Brett Andrews aren't about to let anyone cramp their style. To push Ryan and Donna into branching out, they stage a house party with a carefully selected handful of their swinging friends. Fresh adventures beckon when a new young couple asks Jen and Brett to mentor them into the lifestyle.
INTERVIEW
Naughty Little Vamp interviews the Swinging Games heroine, Jen Andrews!
EXCERPT
Jen handed Donna a short tan skirt. "Try this. Sometimes we women are the last to know what our men like."
"Isn't that the truth? I wish they could use a few more words." Donna stepped into the skirt. "I don't know about this. Seems too snug and too short."
"Nothing will be too short for the party. You want to try this denim wrap-around? Everyone will want to be the first to tug on its tie to see what you're trying to hide under it."
"I'll try it. It did feel a little more comfortable in the store."
Jen waited for Donna to smooth out the short skirt before commenting. "That looks sharp. How do you feel in it?"
"Sexy," Donna giggled. "It's difficult to believe I'm actually thinking about wearing this in front of other people." She glanced at her image in the full length mirror. "But it does have possibilities."
"I think the white thigh-high stockings will go perfectly with your top. Put these on." She beamed. "You're going to be amazed."
Moments later Donna squealed, "Oh my God, is this really me?"
"Now the black heels. You're going to knock 'em out."
With effort, Donna squirmed into the pumps and stood erect. Slowly she turned about in front of the mirror. "I can't believe the difference a few clothes can make—skimpy clothes, at that."
"All you have to do now is get rid of those cotton briefs."
"Oh. They are a bit much." Donna tugged the briefs down over her thighs and heels and started to sort through the skimpy sexy options they'd bought earlier in the day.
"Of course panties aren't required to get into this party."
Donna blinked at her and shook her head. "I can't be bare. Not tomorrow night. Even this will help." Between two fingers, she held up a tiny black v-string.
"That'll work." Jennifer stood. "Let me help." She took the v-string from Donna and knelt before her. "First one foot…and then the other." Effortlessly, she slid the scrap of nylon up over Donna's legs and thighs until she had it in place. "A little mystery." She grinned up at Donna. "But not too much."
"This gives me such an incredible feeling. I enjoy sex, but I don't often feel this sexy."
"You are sexy." Jen lifted the denim skirt and inhaled the scent of Donna's scantily clad sex. "Good enough to eat. You are delicious."
Donna's fingers wove through Jen's hair, nestling her tighter. Donna rocked back forth slightly on her heels.
Jen pulled away and rose to her feet. "But not now." Donna immediately looked downcast. "Brett and I have a rule. We don't have sex the day before a party. We might tease each other mercilessly to stay on edge. But we save sex for the party. So if you're satisfied with this outfit why don't you slip out of it and into something less revealing? I've had enough temptation for one afternoon."