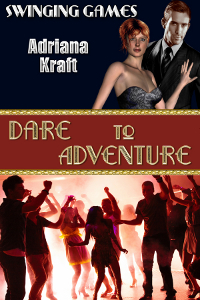 Series: Swinging Games, Book Seven
Extasy Books: EBook
August, 2011    ISBN 978-1-55487-938-0
Novella, 15,000 words
Cover by Martine Jardin
An elusive Unicorn, an on-premise Swing Club, m/m, f/f and ménage for three, four or more – what will Jen and Brett dare to try next?
Heat Rating





 Explicit sex: M/F, F/F, M/M; Ménage: M/F/F; four way; multiple partners; sex toys; anal sex
BLURB
Brett and Jen Andrews enjoy a decadent weekend with their latest lover – the recently widowed Sarah Creston. Have they finally found their Unicorn? But Sarah is called away to care for family members before they can reconnect. Undaunted, they take their newest young protégés to an on-premise Swing Club for a stupendous evening of raw sex and voyeurism. They follow up with another house party, but this time their best friend Ryan discovers Brett is bi. Will Ryan flee, or will he join in?
EXCERPT
Sarah nodded at Brett. Looking serene and confident, she stood, not bothering to retie her robe, which had separated. She held out her hand to Jen. "Come. I want—I need you to show me how it feels to be loved by a woman."
Unhurried, Jen rose to her feet and let her robe slip off her shoulders and to the floor.
Hesitantly, Sarah reached out to trace Jen's jaw line. "You are so lovely. Your skin is like milk. So smooth. Such a contrast to your auburn hair and rosy lips. And your… your nipples are so rosy."
Jen dipped her chin to encourage Sarah to caress her lips. Sarah smiled when Jen puckered and then she ran her finger lightly over Jen's mouth.
"So soft," Sarah murmured.
"Umm." Jen drew Sarah's finger into her mouth and suckled. Their gazes locked. Jen cupped Sarah's breasts, drawing a thumb across each nipple.
"Goodness," Sarah whispered. Her knees buckled.
Jen hugged her close, keeping her from falling. Their hips touched.
Looking expectant, Sarah withdrew her finger from Jen's mouth.
"Do you want me to kiss you?" Jen asked.
Sarah nodded. "Please."