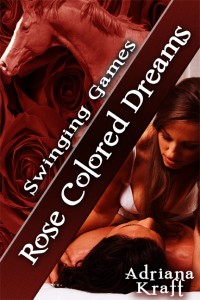 Rose Colored Dreams
Series: Swinging Games, Book 14
Erotic Romance Novella, 12,400 words
April, 2015: Extasy Books
ISBN #:978-1-4874-0325-6
Cover Artist: Carmen Waters
Run for the roses? Anyone can dream on Derby day!
Five flames: Explicit sex, M/F, F/F/M, multiple partners, Ménage, Light bondage
REVIEW
I like seeing Jen and Brett work on their relationship as well as the relationships between their group members. I love the support they give one another. And the sex ain't bad either. Another winner in this Swinging Game series. I look forward to more. Sheila G, Amazon
BLURB
Brett and Jen join their horse-trainer friends at the Kentucky Derby for a whirlwind weekend of races and sexy swing parties. Perhaps a Derby win is out of reach – but what are the dreams that matter for them? It doesn't cost anything to keep on dreaming.
EXCERPT
"So the Derby has been on our bucket list for years, too. Now that we get to scratch it off, what do you want to add?"
He gave her a quizzical look.
"Well, we can't go around with an empty bucket list. Every time we cross one entry off, we have to add another one. Didn't you know that?"
"Can't say I've given it much thought…clearly not as much as you have. So what's left? What do you want to add?"
Jen seemed to ponder his questions for longer than he thought necessary. "Well?" he finally prompted.
"It's not so easy. We're not getting any younger. So what do we want to do that we haven't already done? It would be easy to simply say more of the same, but this is serious. Yes, I do want to meet more people that we can count as friends with benefits. I'd like us to do more traveling, though some will have to wait until we've retired. We often talk of that. You still dream of seeing Stonehenge and Stratford on Avon."
"It's a dream." He shrugged.
"So it's a bucket list item."
"We've talked about seeing Australia and New Zealand."
"Right."
"Don't make it sound so iffy. Besides, a bucket list consists of dreams—maybe some are less realistic than others, but we can still dream."
"Like dreaming of having a live-in third partner."