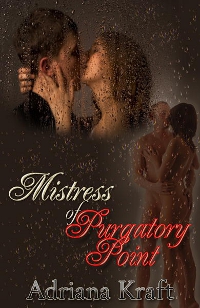 January, 2009      ISBN 978-1-55487-217-6
Extasy Books: EBook
Novel, 60,000 words
Cover by Martine Jardin
One man, two women and two ghosts keep love's fires burning through the deep chill of a North Woods winter—but which love will hold the key?
Heat Rating




 Explicit sex: M/F, F/F; Ménage: F/F/M; Light bondage, sex toys, anal sex
BUY LINKS
eXtasy Books https://www.extasybooks.com/mistress-of-purgatory-point
Amazon https://www.amazon.com/Mistress-of-Purgatory-Point-ebook/dp/B003XRF09S
Kobo https://www.kobo.com/us/en/ebook/mistress-of-purgatory-point
Mistress of Purgatory Point has the BDSM, Lesbian, and Ménage rating, as there's more than just vanilla sex. The ghosts even get into the action…The adult characters are comfortable with their lives but when they come together their passionate personalities are much richer. This is a romance with a touch of almost everything included, so it should appeal to a wide range of readers.
Deb's Book Reviews: Five Moons Mistress Of Purgatory Point has everything ; sizzling sex, delightful characters, sassy ghost this book is a treat from beginning to end. Come meet three sexy individuals and their ghost to see what I mean. Adriana Kraft is one of the most sensually brilliant authors of our times! Her talent for letting you build the scene in your head as it plays out on the pages..sighhh I must say I would like to have my own Ben and Stella. ~ Deb
BLURB
A tender ghost story and a sizzling erotic romance with a splash of BDSM, Mistress of Purgatory Point is also the deeply moving chronicle of the mid-life sexual awakening of a stoic widow who thought she'd already experienced her one allotted love. One man, two women and two ghosts keep love's fires burning through the deep chill of a North Woods winter—but which love will hold the key?
EXCERPT
A gust of wind rattled the windows and Martha slid farther under the covers. If it could get this nippy in early September, how would she manage January?
She'd check the furnace filters in the morning. And she'd better make certain the wood yard held plenty of firewood to last the winter. She'd have to get advice about that. She had no idea how much would be enough.
Natalie might know. Daniel Ford would certainly know. She turned over again and fluffed her pillow back up. The nerve of him, to be watching her when she hadn't even been aware of his presence!
She didn't doubt he could wield an axe handily. She shivered. Maybe she should've done more research before buying the place. Perhaps she should look into getting one of those cute gas fire places.
She needed to stay warm in the winter, and she wasn't about to flee back to civilization any time soon. It had taken all her gumption and most of her inheritance to buy Purgatory Point; she wasn't about to give up because of a chill in the air.
That decided, she closed her eyes and welcomed the drifting sensations of dozing.
He'd have strong hands. She'd have soft hands. Dan's fingers. Natalie's fingers. As if from a distance, Martha recognized her own soft moans. Her loins ached. It was an old ache, yet a familiar ache.
Her nipples pebbled and strained against the flannel gown. Fingers brushed against her inner thigh. She squeezed her legs tightly together, trapping them.
Whose fingers? Hers? His? Natalie's? She was dreaming. She knew she was. She had to be dreaming. She let herself sink farther into the darkness.
"That a girl," came a soothing whisper penetrating her fuzzy brain. "You're a passionate woman. Let it out. Cherish your passion. Let me help. Let me touch you."
"Natalie?" Martha whispered, unable to awaken.
A soft chuckle answered. "Not this time. Maybe later if you allow yourself. Now let me help you."
The pressure of fingertips on her thigh matched the pressure building behind her loins. Her brow furrowed as another set of fingers caressed her taut nipples still protected by flannel. "Oh," she moaned. She tensed and then relaxed. The fingers on her thigh slid upward to where she burned the hottest.
Martha bit down on her lower lip as a finger seeking more heat found it. She gasped and lurched up and down, helping to seat the intruder in her sex. "This can't be happening," she moaned, widening her thighs.
"But it is. You're not pretending it isn't, are you?"
Martha hesitated. The finger stopped its exploring. She shook her head in response to the question and to her overwhelming desire. She wasn't even certain what she wanted, but she wanted with her entire body.
A mouth settled over the flannel that covered a breast. "Good God," Martha whimpered. She heard laughter and then the magic emanating from her vagina overtook her. The finger deep inside moved incessantly. Martha shook. She didn't know which would explode first, her head or her loins.
"God help me!" she screamed as her need, fulfilled, overflowed.
Exhausted, Martha shook herself awake. Her dream had been as vivid as a nightmare, but she wouldn't deceive herself labeling it as such. It had been too incredible for that. She hugged herself trying to quiet her still trembling flesh.
She'd orgasmed before, but…She threw an arm across her forehead. This one had been so explosive. So simple, and yet overwhelmingly complex. She shook her head. Since when had she become an analyst of orgasms?
Her nipples still tingled. Tentatively, she brushed a hand against a breast. Her eyes flew wide open and she started to a sitting position. The flannel covering her breast was sodden. She slid a hand between her legs. Wet. "Good grief," she murmured to the night, "what is happening to me?"