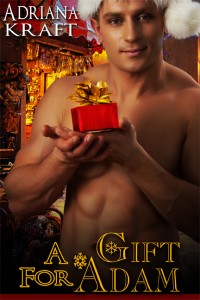 A Gift for Adam
ISBN: 978-1-4874-0149-8
December, 2014: eXtasy Books
Erotic Romance Novella, 14,000 words
Cover by Carmen Waters
Sensible Evie Strand from Home-and-Garden, devilish rake Adam Grant from Automotive, and a Christmas package mix-up in a hilarious sexy holiday romp!
Heat Rating




 Explicit sex, M/F; anal sex, sex toys



 I loved A Gift For Adam and was thoroughly entertained from the first line to the last…There were so many humorous moments that I found myself wanting to read the story again when I had finished just to keep smiling. I found A Gift For Adam to be a very sexy, humorous romance that I will read again.
Sensual Ecata

I have to admit that laughing until my eyes water and then immediately squirming in my seat from the "heat" of the next scene is a new experience for me…a powerfully good read… truly brilliant comedic rhythm and delivery.  Season that with love scenes better handled with asbestos lined gloves and you get one HOT little story worthy of becoming a bedtime favorite. Well done, Ms. Kraft; give me more, please! ~ Kelly S.

Wild on Books Reviews What a fun, sexy, and humorous Christmas read A GIFT FOR ADAM is! I enjoyed the humor and the realness of the characters. Evie is such a down to earth likable heroine that I rooted for her to get the hot sexy guy from automotive…Can the store rake and the sweet home and garden manager find love? I recommend curling up in a nice comfy chair with a warm cup of hot chocolate this Christmas season and reading A Gift For Adam to find out! ~ Daria
We Really Dig Books I love it when a book touches the emotions as much as this one did. This book will have you laughing so hard you'll have to remember to breathe. The hot romance is just as much off the charts as the laugh-out-loud scenes. 
BLURB
Home and Garden assistant manager Evie Strand has painstakingly embroidered a set of seven thongs as a gag gift for her best friend—only she brought the wrong box to the store Christmas party, and now Adam Grant from Automotive is holding them up for everyone to see: Kiss my…, Tight Fit—could things get any worse? Adam may seem like a total rake, but he can tell Evie's deeply embarrassed and he resolves to make it up to her. Who knew where a simple dinner date would lead?
EXCERPT
CHAPTER ONE
Mortified, Evie Strand looked on in horror at the office Christmas party careening out of control. Her fellow employees stared at her in amazement. Some snickered. Some couldn't remain silent.
"What a hoot," Leslie whispered from the seat next to her. "You put old Adam in his place."
Evie shook her head and swallowed hard, willing herself to be anywhere but in this room. Adam Grant's dark eyes snapped, mocking her. Did he really think she'd given him that package on purpose? It was meant for Christie, her closest friend. That package wasn't even supposed to come to the office party. Christie didn't work for the store.
How could she be such an idiot? She'd wrapped so many Christmas presents late last night. It had never occurred to her that the two packages looked so similar on the outside.
To her dismay, she'd drawn Adam Grant's name for the annual gift exchange. She hadn't given it much thought once she'd decided to give him a tie.
Evie blinked as he rummaged through his gift. "No," she muttered softly, when he held up a second thong. This one, like the last, had hand-stitched lettering.
She should know. She'd painstakingly hand-lettered seven thongs for Christie. They were supposed to be a joke. She doubted Christie would actually wear any of them, but they'd each gone out of their way during the past six seasons to surprise each other with something that was outlandishly sexy. She had to admit she might've gone over the top this year.
Adam held high the pink Tuesday thong. He could hardly read it aloud for breaking up with laughter. "Tuesday: Wish you were…?" The question mark below the lettering left little room for confusion about the intent—it would nestle comfortably over the wearer's mound.
More hoots and hollers followed. The powder blue Monday thong had been more shocking, probably because it was the first one Adam had held up, or maybe because it said "Don't Dribble" across the front.
Evie pushed her chair back from the long banquet table where she sat with her fellow Grafton Department Store employees. Leslie grabbed her wrist. "Don't let him get the best of you. Mistakes happen. At least half the people here think you did this on purpose to get the rake's goat. If you leave, they'll know you screwed up."
Evie gulped and nodded at her department manager. She drew in a deep breath. "All right."