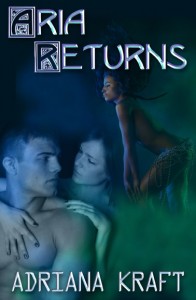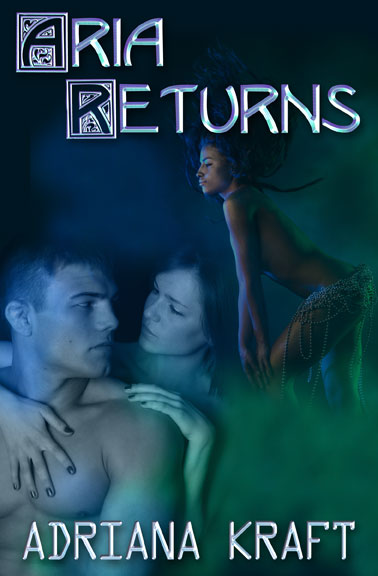 Aria Returns
Colors of the Night, Book Two
Extasy Books: EBook
May, 2013 ISBN: 9781771115391
Novel: 53,000 words
Cover Artist: Martine Jardin
Can the immortal love goddess Aria heal not one but two traumatized hearts—and if she succeeds, will those hearts open to each other?
Heat Rating





Explicit sex: M/F, F/F; Ménage: M/F/F, F/M/F; Anal sex; sex toys.
BUY LINKS:
BLURB
Traumatized by the boyfriend from hell, Amber Heath makes a desperate plea for help—and is shocked when the immortal love goddess Aria materializes and whisks her away to a nineteenth century Carnivale.
Jeff Conway is still reeling from his fiancé's betrayal and not about to risk his heart. But he's more than willing to play with the spunky sprite Aria brings to meet him at Carnivale.
Sometimes watching, sometimes joining in, and always coaching, Aria launches Amber and Jeff on an erotic journey back to health and playfulness. But even the love goddess can't force them to love each other.
EXCERPT
"I'll dab a little rouge on your cheeks," Aria said, beaming at Amber. "And a little on each nipple."
"Ooh," Amber cooed, grabbing Aria's wrist, "can't we just climb onto our bed and make love now that we're here?"
"And miss the carnivale party?" Aria tilted her head to the side. "That's why we traveled here. Aren't you excited?"
"Very." Amber breathed through her nose. "And a little nervous."
"You're hardly a novice with sex."
"But I've never been to an orgy—and in nineteenth century London, at that. Will all the partygoers be from this century, or will there be other contemporaries?"
"It'll be a mix. You won't know who is which. Like you, everyone will be attired as a nursery rhyme or fairy tale character." Aria grinned and tugged on Amber's waist-length hooded jacket that had neither buttons nor zipper, providing easy access to her now rouged nipples. "You look stunning, Red Riding Hood."
"And you're positive everyone will be bottomless." Amber wet her lips glancing at Aria's dark triangle of curls leading to her now puffy vulva.
"As Queen of Hearts, I wrote the invitations myself. We are properly attired." Aria winked and brushed the back of a hand up and down Amber's mound. "I love the way you've trimmed your pussy. That narrow line of hair framing it looks like a zipper. I wonder who will unzip it first."
"You could be first," Amber whispered, clutching Aria's hand tighter to her loins.
"You're already wet," Aria laughed. She shook her head. "The hostess can't be too late to her own party. Why don't we take a deep breath and go down to the grand ballroom? You can participate as much or as little as you want. Though I doubt you'll find it possible to merely watch."
Amber hesitated. "If people partner with their fairy tale or nursery rhyme partner, does that mean I have big bad wolf waiting for me?"
"Yes, but you're not limited to your nursery rhyme partner."
"Is he already here?"
"I don't know. How do you know the wolf will be male?"
"Oh." Feeling more than a little confused, Amber admitted, "I guess I don't, not that it particularly matters."
"I thought so. Now give me your hand and I will present you."