Welcome to the Mistletoe Hop, today through Monday. Thirty fabulous authors have banded together to bring you prizes and entice you with excerpts.
Sensible Evie, devilish Adam and a Christmas package mix-up in a hilarious holiday romp!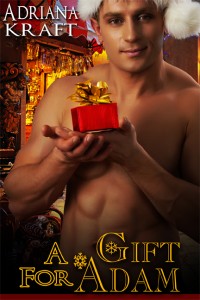 Have you ever grabbed the wrong package from your pile of carefully wrapped presents on your way to a holiday party? We haven't either, but we were inspired to write this story after a shopping trip to Victoria's Secret, where we found some great thongs with funny sayings. It didn't take us long to go from "what if" to our story line, complete with a thong for every day of the week…
We're thrilled to have this fun erotic novella re-released with new edits at Extasy Books just in time for the holidays!
BLURB
Home and Garden assistant manager Evie Strand has painstakingly embroidered a set of seven thongs as a gag gift for her best friend—only she brought the wrong box to the store Christmas party, and now Adam Grant from Automotive is holding them up for everyone to see: Kiss my…, Tight Fit—could things get any worse? Adam may seem like a total rake, but he can tell Evie's deeply embarrassed and he resolves to make it up to her. Who knew where a simple dinner date would lead?
EXCERPT
Adam held up the pink Tuesday thong. He could hardly read it aloud for breaking up with laughter. Tuesday: Wish you were…A question mark below the lettering left little room for confusion about the intent—it would nestle comfortably over the wearer's mound.
More hoots and hollers followed. The powder-blue Monday thong had been more shocking, probably because it was the first one Adam had held up, or maybe because it said Don't Dribble across the front.
Evie pushed her chair back from the long banquet table where she sat with her fellow Grafton Department Store employees. Leslie grabbed her wrist. "Don't let him get the best of you. Mistakes happen. At least half the people here think you did this on purpose to get the rake's goat. If you leave, they'll know you screwed up."
Evie gulped and nodded at her department manager. She drew in a deep breath. "All right."
She glanced back at Adam in time to see him holding up the yellow Wednesday thong: Kiss My…with a broken arrow pointing suggestively toward the backside.
GRAND PRIZE
ADRIANA'S PRIZE
Click on the links to travel to other hop participants and enter for their contests!