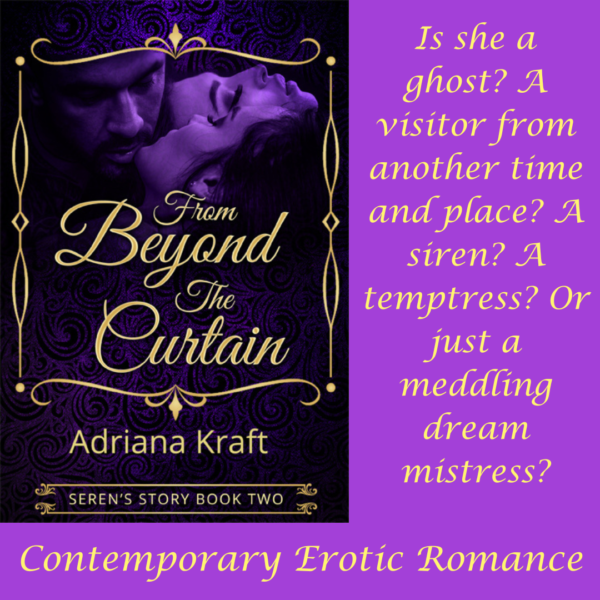 Welcome to MFRW Hooks, where the authors of Marketing for Romance Writers share snippets from their stories to entice you into wanting more. Be sure to click on the links at the end to travel!
Just Released: From Beyond the Curtain
Book Two of my Seren's Story series that began in Wales
during the Roman Occupation of Britain.
BOOK INFORMATION
Title: From Beyond the Curtain
Series: Seren's Story, Book Two
Publisher: Extasy Books
Release Date: July 14, 2023
Length: 22,500 words
ISBN: 978-1-4874-3897-5
EXCERPT
Set-Up: Seren has whisked Gwen away from her office desk, and they're at Seren's cottage in some other world. Picking up where we left off last week:
"In due time, my love, all will be clear."
"Hmmm."
Seren worked Gwen's hair aside until she could nibble on an earlobe.
"That feels so good, Seren. But why would I like him any more than Elizabeth does?" A chill shot through her body and she turned to meet Seren's gaze directly. "You're trying to throw us together—you're not going to make me love him, are you?"
Seren chuckled and nipped Gwen's shoulder. "I don't have that kind of power. I wouldn't use it that way if I did. All our destinies are intertwined. I know that. I can't change that, but neither can I make things turn out the way I hope they might. You are mortals, and I have to abide by your rules."
"Well that's a relief—if it's true." Gwen laughed softly. "Even so, I do trust that you must have some limits on how far you can interfere, or we wouldn't be having this conversation."
"Clever girl." Seren pulled away. "Your dark hair is luscious. You truly have the gifts and are in tune with our ways, with your roots. You are so much more in tune than Dante."
"What do you mean?
"If you must know, Dante has the same gifts you possess, but he is only slowly becoming aware of them. Not enough to own them or name them. Perhaps you'll help him claim his gifts." Seren kissed her cheek. "Now you must return. I believe a mysterious man is on his way to seek your healing spirit."
"I'll do what I can. Physical therapy is what I do for a living."
"Yes, but Dante Emmanuel carries much deeper pain than physical."
BLURB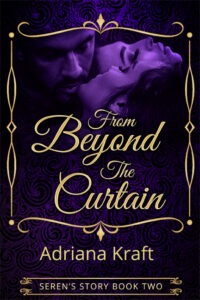 Is she a ghost? A visitor from another time and place? A siren? A temptress? Or just a meddling dream mistress?
Seren has bided her time for centuries, waiting for the moment when two of her descendants fall in love and release her, finally, from the place between worlds. The many gifts Seren has inherited from her ancestors—time travel, entering dreams, telepathic communication—have been unsuccessful thus far. Will Gwen and Dante be the ones?
Gwen McFarland has always been in touch with her Celtic roots. When Seren—who looks to Gwen like a Celtic goddess—materializes and invites her to a love tryst in another time and place, she does not hesitate. That Seren sometimes brings along another woman is simply an added benefit.
Fast paced trial lawyer Dante Emmanuel has no time for sentimentality or relationships. A string of satisfying sexual encounters suits him just fine. He's mystified when a recurring figure enters his dream life, but he won't turn down Seren's exotic sexual talents or the dreams that now seem more real than ever.
Who will make the first move in this three-part game of chess? Timing is everything.
UNIVERSAL BUY LINK
This is a blog hop! Click on the links to travel.