Triple Crown Fever
Have you caught it yet? In our house-on-wheels, we're really pumped about the Belmont Stakes, running today at 6:52 Eastern. California Chrome looks like the horse to break the thirty-six year streak of no Triple Crown winners since Affirmed in 1978, if racing luck holds. And there is always racing luck.
Besides the fact that we always follow the Derby, Preakness and Belmont Stakes, we feel a special connection to California Chrome, in two ways. The first is our own brief foray into the horse racing world. Some years back, hubs came into a small inheritance, and we used it to pursue our dream: he and a trainer friend flew to the fall Barretts sale and brought home two thoroughbred fillies. One of them ultimately won a race at Los Alamitos – the race course where California Chrome went to train after Hollywood Park closed last December. We share the same turf.
Here's a photo of her win at Los Al: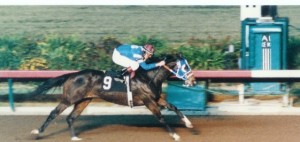 The deeper connection, though, is fictitious. We're halfway through our four-book romantic suspense series set in the horse racing industry, Riders Up. In Book One, Cassie's Hope, our heroine leaves her job for six months to help her father pursue his dream after his stroke. Tug O'Hanlon's story parallels the story of California Chrome's owners, who bred and raised their foal against the advice of seasoned trainers and pinned their dreams to him as they began to see what he could do. They were offered six million dollars for him before he won the derby, and they turned it down. Tug would have understood, as you'll see in the excerpt below.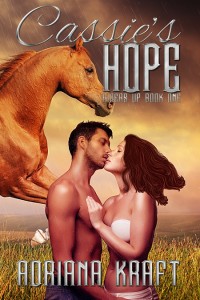 High stakes, a fiery Irish redhead,her stunning racehorse,
and a fiercely loyal rancher
REVIEWS
Five stars at Goodreads and Amazon:
"Extremely well written and very entertaining to read. Real life hopes and dreams becoming a reality. This story really moved me." Donna H.
"I loved Cassie and Clint. These two stubborn, prideful people remind me of Darcy and Elizabeth Bennett…Cassie's Hope is the first book of a series. I cannot wait to read the rest of the books" Sheila G.
"I took their journey with them. I felt their pain, their sadness, their struggles, and most of all their love. And that is the mark of a truly good book." Faith H.
BLURB
What happens when a fiercely loyal widowed half-Ute cowboy meets a fiery redhead with an Irish temper to match? Cassidy O'Hanlon – Cassie, to her friends – has set aside her Chicago career for six months to train racehorses for her dad after his stroke.
Furious the interloper has shipped in a ringer from the Chicago circuit to his Wyoming turf, Rancher/trainer Clint Travers sets out to put her in her place. Sparks fly immediately, but after their rocky start, the two quickly forge a passionate relationship, and he follows her to Chicago.
When it becomes clear someone is drugging Cassie's horse, Clint sets out to solve the mystery, but storms off in a cloud of wounded pride when suspicions turn to him.
Can love trump pride?
BUY LINK
To celebrate the Belmont Stakes, Cassie's Hope is #FREE all day today at this link:
EXCERPT
"You'll do it then?" Tug's voice squeaked.
Guilt, excitement and fear washed over Cassie in such quick succession that she couldn't sort them out. Was she yielding? Hell,it'd been a done deal before she'd left Hope in her paddock. "Yes, I'll try. Six months. No more. She is a very promising filly. I still don't know how we can afford to do this."
"We can afford it." Tug's eyes twinkled. "I got somethin' else to tell you. Didn't wanna till after you made up your mind. Didn't wanna influence you too much…I've agreed to sell eighty acres to Mr. Dillingham, who's been after that land for the last five years. After taxes and everybody's fees, we should net a little over a million dollars." Nodding softly, he said, "For once, I think we can afford to chase this dream."
"Holy shit!" Cassie shrieked. "You did what? Why now?"
"There's plenty of farm left for horses. Thought maybe I've been too stubborn for my own good. This may be my last chance, Cass. Holdin' on to land is an important principle. But bein' land poor probably don't make much sense either. It's yours, you know. I'm just gonna share some of it with you for awhile."
"Oh, Daddy." She bent down and kissed him on the cheek. "I don't know what to say! We could go out and buy contenders. Horses that could be competitive stakes runners right away."
"I know that."
She saw a quick flash of that familiar stubborn streak set deep in his cat-gray eyes.
"Nope. The key is to raise a big horse—not just buy it. Any rich fool can buy into a good race horse. That's what baseball owners do when they ignore their farm teams. It takes skill to raise a contender.