Welcome to week 173 of My Sexy Saturday!


This Week's theme is Sexy Becomes Her.
Willow Smoke is Book Three in our Riders Up romantic suspense series, set in the horse racing industry. It's a May-September romance featuring the street kid from Cassie's Chicago group home in Book One, Cassie's Hope. But Daisy's grown up now and works for a horse trainer at Hawthorne Racetrack…
EXCERPT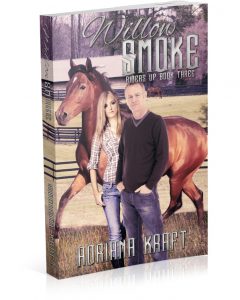 Nicholas Underwood sat staring at the cell phone long after he'd set it on the massive oak desk at the center of his study in his fourteen room Kenwood house. The woman stuck to his hide like a sandbur. Sultry described her voice. She probably didn't have a clue how sexy she sounded or looked.
He leaned back in his swivel chair and propped his feet on the desk. She had to be his employee. It was safer that way. But she might be right. He hired Sam Gallagher, and Sam hired Daisy Matthews. So what did that make Willow to him? One could probably cut it either way.
Who was he kidding? He didn't want to regard the tall, willowy woman with the deep smoky voice as an employee. He closed his eyes. Twenty-five from forty-two equals seventeen. Shit. He slammed his feet back to the carpet and strolled over to one of the floor-to-ceiling bookcases that nearly ringed his study. He reached for a slim volume and turned the pages until words leapt out at him. Let the world slip: we shall ne'er be younger. It was from Taming of the Shrew.
Would that he could. What he really wished was that he could forget how Daisy Matthews' soft breasts crushed against his chest or how her gray eyes rounded in pools of pain and then turned iridescent in the delight of banter and the unexpectedness of surprise. She exuded a vitality that he found intoxicating and difficult to shake.
If he was a smart man, he'd go to the Twin Cities, conduct his business and arrange for the sale of that damn horse while out of town. But that would be too much like the coward's way out. No, he'd stay the course. He wasn't about to cheat destiny. Certainly a man of his experience and talent could best a woman who'd probably lived no more than a quarter century.
But why even bother to enter the contest? He could simply flee. No one was watching.
He could no more flee than sprout wings. There was something about Daisy Matthews that drew him like the sorrowful call of the loon. He wanted to know more about her. He wanted to listen to her story. He wanted to have some excuse to hug her again. Given her youthfulness, she might not be good for his pride, but she seemed good for his soul.
BLURB
When the chips are down, there's nobody there.  Willowy blond Daisy Matthews has survived the Chicago streets with this mantra but is unprepared for the much older Nick Underwood's urgent pursuit.  The wealthy businessman receives a thoroughbred in payment for a bad debt and is thrust into Daisy's world.  She teaches him about horse racing; he teaches her about love.  When Daisy's seamy brother-in-law threatens Nick's safety, she doggedly tries to stop him by herself, but flees to the familiar streets when he attacks. Can Nick find her in time – and if he does, will she still want him?
REVIEW
"Suspenseful, intriguing and truly romantic! What a fabulous story of the blending of two worlds" Risha C, Goodreads Reviewer
BUY LINK
Print and EBook       

Be sure to click to travel to the other Sexy Becomes Her snippets – you'll be glad you did!