Welcome to another round of My Sexy Saturday, where authors offer seven words, sentences, or paragraphs from their work for your entertainment. Be sure to click on the graphic at the bottom of the page and visit the other participants.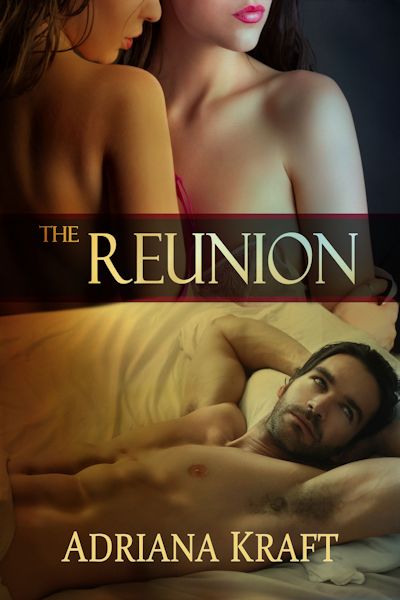 Ready for more? Sarah's bad behavior at the restaurant from last week's post might have some consequences…
EXCERPT
How badly had she infuriated Adam? She'd turned the tables on him and he didn't like it one bit. Neither of them had said a word until they'd arrived at his bedroom, and then he'd been cryptic. "Stand right there," he'd commanded.
And there she stood, facing a floor length mirror with Adam standing behind her looking darkly at their reflections in the mirror. She locked her gaze on his and reached behind her for the tie of her dress.
"No," he said, hoarsely. "I've wanted to do that all night."
She leaned her back against his chest and arched her neck forward. He lifted her hair and unknotted the tie. His lips grazed her bare neck. Shivers coursed throughout her upper torso.
"Lean your head back against me." She rested her head on his shoulder. Each of his hands fondled the underside of a breast. He avoided touching her nipples, which if they could speak, would have begged for attention. She remained silent.
He slid her dress down over her hips. He drew an earlobe into his mouth and chewed on it. He rimmed her navel with a finger. She moaned her applause for his efforts. He was playing her like she was a finely tuned instrument. She was his bass viol propped against his chest. At last, one nipple found relief between his thumb and finger. His other hand traced the thin line of hairs leading to her pussy. She wet her lips. Adam Granger could definitely do slow.
She nestled her butt against his crotch. He pinched her nipple until she squealed. "No," he said, "stay still. This is my game."
– o –
The Reunion will be released at Amazon September 15. Watch this space for information about its free days! ARC copies are available for interested reviewers.
BLURB
Dark and brooding, Adam Granger was always the bad boy out of reach—but now he's in Sarah Atkinson's bed, the morning after their twentieth high school reunion. When Adam beats a retreat to his Pacific Palisades estate, former good girl Sarah throws caution to the wind and pursues him.
Petite copper-skinned Maria Ramirez greets Sarah at Adam's front door. The former exotic dancer doesn't challenge Sarah's assumption she's the maid—how long will it take the dark-haired beauty to figure out Maria is Adam's live-in lover? Better yet, how long before Maria can entice her into their bed?
Determined not to rock his hard-won lifestyle, Adam resolves to push Sarah past her sexual limits so she'll leave. When she stays, he watches helplessly as the two women fall in love with each other. Will they shut him out? And, if they let him in, what must he sacrifice?
CONTEST
Subscribe to my monthly newsletter (upper l.h. sidebar) and leave me a comment to be entered for this month's prize, a $10 gift certificate!
Click on the graphic below
to link to the other Sexy Saturday posts: