Janine Ashbless on Tour ~ Fierce Enchantments
Today we're thrilled to welcome Janine Ashbless, spinner of erotic fairy tales. You're going to love this!
Back in December I was stuck in an airport lounge, alone, waiting four hours for my delayed flight home. I had my Kindle with me, full of books. Classics and novels for proper grown-ups, erotica and action thrillers … all sorts of things to choose from. I could have picked something improving. I could have picked something inspirational for my own writing work. What I actually did for three hours was read fairy stories. First E Nesbit's collections of the ones she wrote herself, and then an anthology of traditional folk tales from the Slavic regions.
I think there's something about fairy tales that draws us back. As reminders of childhood pleasures, they are uniquely comforting when we are alone and tired and insecure (That day in Schiphol Airport I'd had to say goodbye to my husband for another week, and I hate doing that). But there's also something instantly gripping and gratifying about fairy tale plots – young women lost in the forest, young men off to see what the world has to throw at them, serendipitous encounters with strange unearthly beings, the unexpected kindness or brutality of strangers, suffering and hunger, sudden wealth and fortune. They intrigue us, despite their familiarity. They lead us down familiar-looking paths to unknown places. And they hold the promise, every time – or nearly every time – of a triumphant and happy ending.
So when I write my erotica, I return every so often to the fairy tale format. There are two in my Fierce Enchantments collection: Too Much of Water is my take on the The Frog Prince, and it sits at the crueler end of the genre. Is the ending a happy one? That's really down to your perspective. The Merry Maid is warmer and sweeter- but not too cosy.
Fairy tales sometimes have a sting.
Cover Blurb for "Fierce Enchantments"
Inside the covers of this, Janine Ashbless' third collection of erotic short stories, you will find delight and terror and lust – and perhaps even unexpected tenderness.
The wayward daughter of Shakespeare's sorcerer Prospero; a runaway slave who becomes king only for as long as he can stay awake; a servant girl whose three dead lovers return for one last tryst; vampire-hunters haunted to the point of madness by what they have been through; warriors in a desperate future war for the survival of humankind – and one very dangerous frog prince – all appear in this collection of erotic stories that will take you to the edge and then pull you over into the glittering darkness beyond.
Weaving worlds of fantasy, Janine Ashbless draws from fairy stories, history, myth and the darkest depths of her imagination to bring you tales of passion and desire that will enchant, shock and dazzle you.
Buy links:
Excerpt from Fierce Enchantments:
(from the story Too Much of Water)
Willow is a treacherous tree. A narrow stem snapped under her hand and, slipping suddenly, she had to snatch at another trunk to stop herself going down the bank. The golden ball dropped from her fingers and rolled down the slope, bounding into the millpond with a hollow splash.
For a moment Zorya could not believe what had happened. She slithered down to the water's edge and stared, trying to glimpse a gleam of gold beneath the dark surface. But in a moment even the betraying ripples vanished, and there was nothing to show where the Tsar's gift had gone. The pond lay like polished malachite, and the willow saplings only sighed.
"No," said Zorya to herself, pressing her knuckles to her lips. The second "No," built in her belly then came out as a long moan of pain. She hunched down, unheeding of the wet on her skirts, and dappled her hands in the water; it felt cold as ice and there was nothing but soft mud beneath her questing fingers.
"Why are you crying?" said a voice.
Zorya looked up and through her tears saw a man standing before her in the pond. She could only see him from the waist up, and what she could see was naked. Her heart clenched within her and crammed into her throat, but she was too frightened to scream. She felt the last tears roll down her cheeks.
"Well?" said he.
"I lost my golden ball in the water," she whispered. Her fingers twitched but she couldn't cross herself, despite being in no doubt as to whom she was speaking. This was a Vodyanoi: a water spirit. She'd heard that they could appear in human form, though more often they looked like sunken logs or moss-draped toads of monstrous size. This one wore the guise of a young man, and his long wet hair hung about his face and shoulders like drips of tar. His lithe body was pale, almost greenish in hue, each muscle visible under the wet shine on his hairless skin. He was very handsome. She wasn't fooled: the Vodyanoi are evil, and delight in drowning the unwary.
"Aren't you a little old to weep over lost toys?" he asked, his thin lips crooked in a smile.
"It's not a toy." She wondered if she could jump to her feet and dash away among the willows, but she was fairly certain he would catch her with a single lunge.
"What, then?"
"It was a betrothal gift from Ivan Vasilyevich, Tsar of all the Russias." It was the symbol of her faithfulness to him, and his public trust in her; to fail to treasure it would be counted an unforgivable insult. "He will have me buried alive for betraying him."
"Then I'll fetch the ball back for you." His black brows were wickedly arched, as proud as Satan's, and his smile was dagger-edged. "For a price, of course."
"What price?" The breath seemed to have deserted her lungs.
His smile broadened. "An hour in your arms."
Zorya drew herself up, straightening her back. Acid found its way into her voice at last: "Then I might as well leave the ball where it is. If I'm not a virgin on my wedding night, the Tsar will kill me anyway."
"What's your name, Daughter of Eve?"
His eyes were gold, she realised—not the pure gold of her gilded ball but dark and flecked like those of a frog, and quite beautiful. Somehow thrown into confusion by this—was she not a foolish girl as well as a wilful one?—she answered "Zorya," without thinking to lie. She didn't even recoil when he reached out a finger and drew it down the line of her throat, leaving a line of chill damp that made her shiver, before tracing a spiral upon the top of her breastbone just above the lip of her bodice. She couldn't wrench herself away, only drop her eyes before his impertinent gaze.
"You're quite comely."
"So they say," she answered through her teeth. A cold bead of water found its way from his fingertip into the cleft of her breasts, where it trickled down the slope of her warm flesh like a secret caress.
"And beloved of the Tsar. Such good fortune."
She clenched her jaw.
"Are you thankful?"
"Beyond words," she said in strangled voice.
Bio: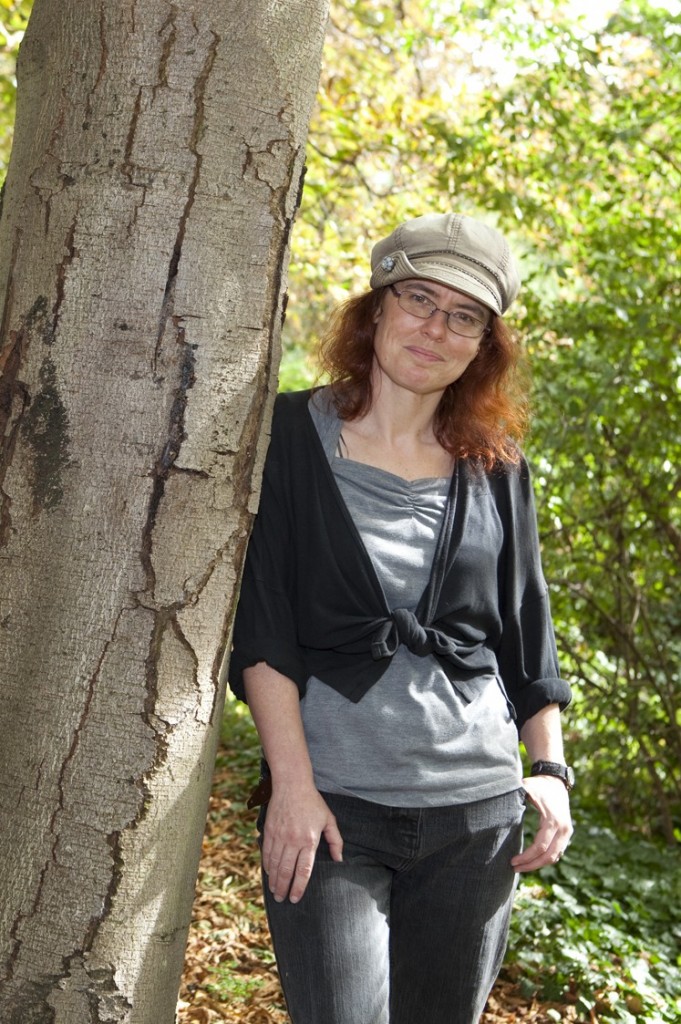 Janine Ashbless is a writer of fantasy erotica and steamy romantic adventure – and that's "fantasy" in the sense of swords 'n' sandals, contemporary paranormal, fairytale, and stories based on mythology and folklore. She likes to write about magic and mystery, dangerous power dynamics, borderline terror, and the not-quite-human.
Janine has been seeing her books in print ever since 2000, and her novels and single-author collections now run into double figures. She's also had numerous short stories published by Black Lace, Nexus, Cleis Press, Ravenous Romance, Harlequin Spice, Storm Moon, Xcite, Mischief Books, and Ellora's Cave among others. She is co-editor of the nerd erotica anthology Geek Love.
Her work has been described as: "hardcore and literate" (Madeline Moore) and "vivid and tempestuous and dangerous, and bursting with sacrifice, death and love."   (Portia Da Costa)
Links
www.janineashbless.blogspot.com