Welcome to MidWeek Tease, where authors share tempting snippets to tide you over till the weekend. A huge shout out to author Angelica Dawson for hosting our blog hop every week!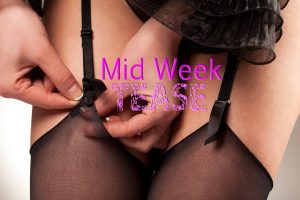 Christmas is coming! Book 4 in our Meghan's Playhouse series is releasing as a Stocking Stuffer at Extasy Books on December 6 – here's a taste to whet your appetite:
EXCERPT
Sitting in Lisa's kitchen nook, Meg nibbled on a cookie, trying to make sense of her friend's distress over her boyfriend's intentions. "So you think Bryce is going to give you a ring for Christmas?"
Lisa bit her lower lip and nodded.
Meg cocked her head to the side. "And that's not good? Or is it? Do you love him?
"Of course I love him," Lisa retorted. "That's not the problem."
"Well, he must love you, or he wouldn't be giving you a ring."
"I know he does." Lisa paused, tightening her finger around a coffee cup. "He says he does. I believe him. At least he thinks he does."
"Sounds like some hesitancy on your part. Are you hoping there will be a ring for Christmas?"
"Yes. But…"
Meg reached across the small table and patted Lisa's hand. "What is it? You know you can tell me."
"I know." Lisa pulled her hand away. "You're part of the problem."
"Me! How can I be part of the problem? I've only met Bryce a few times, including the other night. He seems like a nice guy. And the two of you seem to do well together."
"I don't mean just you." Lisa fought back tears. "Bryce doesn't know I'm into women. That I'm bi."
Meg gulped. "Oh my. And you think he'll dump you because you're bi?"
"I don't know. I should've told him."
BLURB
A ring for Christmas? Sometimes what you hope for and what you fear are one and the same.
In Las Vegas for a brief stint in a musical revue and ready for some uncomplicated sex with a kindred spirit, Meghan Keenan is only too happy to resume connections with her sometimes lover, Lisa Perkins.
But Lisa's in a quandary. Her most recent boyfriend has suddenly become serious, with hints of a diamond ring in her future—and she's never told him she's bisexual. What if he freaks? What if he makes her choose?
Professional photographer Bryce Henry spends his days up close and personal with beautiful models and actresses. Now he's deeply in love with Lisa and ready to pop the question, but even he wonders about long term fidelity. What does he want, and how bad does he want it?
What will happen when Meg takes hold of Lisa's problem and runs with it?
~ o ~ o ~ o ~ o ~ o ~
Watch our home page for release announcements and links!
~ o ~ o ~ o ~ o ~ o ~
In the meantime, be sure to check out the rest of the Midweek teases from these marvelous authors: