Welcome to Book Hooks, a Wednesday offering by members of Marketing For Romance Writers to share a little taste of our work and entice you into wanting more! Click on the graphic at the end to travel to other Book Hook posts, and enjoy!
May-December – love it? Hate it? We don't often write it, but once we'd met our heroine, Daisy Matthews, we knew she'd be looking for an older man – someone experienced, gentle, and safe, or so she thinks. Nick is everything Daisy isn't: twice her age, wealthy, confident, bold, and unafraid to dream.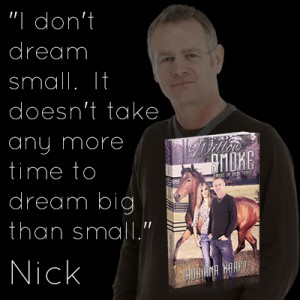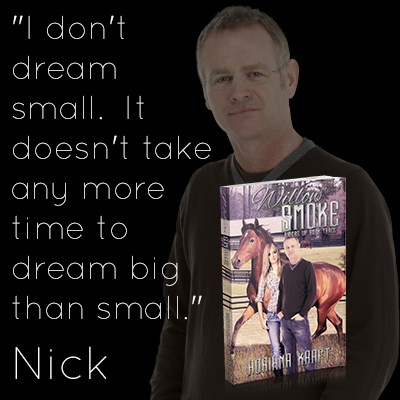 She's not frightened by his age, but his dreams terrify her. We loved the push/pull relationship that unfolded between them as we wrote the story.
Here's a seven paragraph snippet from their first encounter, when she finds out he's the new owner the horse she's been working with:
EXCERPT
"She's a damn good mare," Daisy said. "She'll run her heart out for you, if you treat her right.But she won't work just for anyone."
"Sounds like you've got a thing for my horse, kid."
"Suppose so." Daisy studied the dirt at her feet. "I've known her since she was foaled. Was there to help her mother give birth. I've been there every step of the way when Rainbow was with Cassie Travers, and then when Michael Barnes bought her it was with the understanding that she'd come to Sam's barn and be with me."
When the woman stopped to catch her breath, Nick said, "You didn't answer my question. How much is she worth?"
Daisy shrugged. "Maybe," her voice quaked, "fifty thousand. Maybe more."
"Hmm. Michael said a hundred grand." He watched the spirit flow out of the young woman. Her glistening eyes grabbed at something inside him that he hadn't experienced for a long time. Not thinking, he reached for her chin.
"That horse," he said softly, "means a lot more to you than a hundred grand, doesn't it?"
BLURB
When the chips are down, there's nobody there. Willowy blond Daisy Matthews has survived the Chicago streets with this mantra but is unprepared for the much older Nick Underwood's urgent pursuit. The wealthy businessman receives a thoroughbred in payment for a bad debt and is thrust into Daisy's world. She teaches him about horse racing; he teaches her about love. When Daisy's seamy brother-in-law threatens Nick's safety, she doggedly tries to stop him by herself, but flees to the familiar streets when he attacks. Can Nick find her in time – and if he does, will she still want him?
REVIEWS
Five stars at Amazon "Adriana Kraft has created memorable characters that linger long after the story has ended and I've closed the book. She has done what an author should–brought me into the book's world and made me care about the characters so that my world will not be the same as before their foray into it." Sheila G.
Five stars at Goodreads "Suspenseful, intriguing and truly romantic! What a fabulous story of the blending of two worlds… the plot twists and turns and keeps you on the edge of your seat and the pages turning." Risha C "…dreams can become reality, love can transcend age… Exciting, engaging and very entertaining story. The character interplay is spot on and the story is extremely well written." Donna H.
BUY LINK

Willow Smoke (Riders Up, Book Three)
September 1, 2014, B&B Publishing
ISBN: 978-0-9907476-0-4, ASIN: B00N0DH13I
Romantic Suspense
Heat rating: three flames (explicit sex, m/f)
Cover by Rebecca Poole