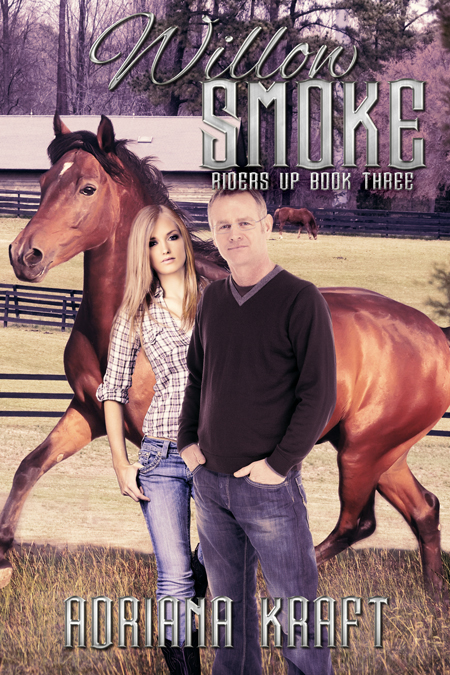 We love our new cover by Rebecca Poole of Dreams2Media! We think she nailed the wary but stunning Daisy Matthews, the wealthy, quizzical and confident Nick Underwood, and of course the chestnut thoroughbred at the center of the story, RainbowBlaze.
Here are the first seven sentences – it's Book Hooks Wednesday, so be sure to click on the links at the end to travel to the other authors!
EXCERPT
"I won't let anything hurt you." Daisy Matthews finished wrapping the ankles of the chestnut mare and sat back on her haunches to evaluate her work. The mare's ankles were cooler than they had been two hours earlier.
It wasn't easy to convince a horse to stand in buckets of ice, but after three years of being a groom and an exercise rider, she could do it about as well as anybody at Arlington Park. At least that was what her boss said when he promoted her to assistant trainer.
Daisy grinned. There wasn't much prestige associated with being an assistant trainer for a fellow with a string of only twenty-some claimers and allowance horses, but it was something, particularly for a girl from the wrong side of the tracks.
RainbowBlaze took a step forward. "I know." Daisy groaned. "Step one: pay attention. Sorry, I got lost daydreaming.You're right. Taking care of you is an important job." She chuckled. "I can't think of anything I'd rather be doing."
"Hey kid, do you always talk to horses?"
The horse reared and pawed. "It's okay, girl." Daisy kept her voice soft and ran her hand slowly along the mare's neck.
When the mare had stopped trembling, Daisy stepped out of the stall, shaded her eyes from the sun and faced the interloper. She scowled at the man's new sneakers, monogrammed shirt and neatly pressed slacks. He looked liked he'd be more at home on a sailboat than in a barn.
BLURB
When the chips are down, there's nobody there. Willowy blond Daisy Matthews has survived the Chicago streets with this mantra but is unprepared for the much older Nick Underwood's urgent pursuit. The wealthy businessman receives a thoroughbred in payment for a bad debt and is thrust into Daisy's world. She teaches him about horse racing; he teaches her about love. When Daisy's seamy brother-in-law threatens Nick's safety, she doggedly tries to stop him by herself, but flees to the familiar streets when he attacks. Can Nick find her in time – and if he does, will she still want him?
Available for Pre-Order NOW!