Have you ever reached for a pillow in the middle of a sizzling sex moment, tucked it under your own torso or your partner's, and discovered neither one of you got the lift you need? Yup, so have we.
This versatile twenty-four inch wide Wedge, by Liberator, might just be the prop you're looking for.
Product Description
Part of the Liberator collection of Bedroom Adventure Gear, the 24″ x 14″ x 7″ wedge is filled with sturdy material the manufacturers call "Champagne Foam," comfortable yet strong enough to support two bodies. It's densely packed into a smooth black nylon liner that protects the foam from lotions or body fluids, and comes with a soft machine-washable micro-fiber zipped cover that won't chafe or give you pillow-burn. Ours is a passionate purple but many other colors are available.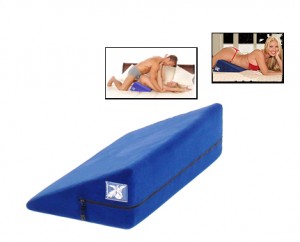 For Her
The wedge angles up at twenty-seven degrees. We found this just right for a number of our favorite moves and positions. Positioned under a female partner lying face-up, it can support her hips and offer just the right angle for oral stimulation as well as easy access to her G-spot. We found this position also great for full penetration face-to-face. In this position, we especially appreciate that it's sturdy enough for two. If the female turns over, the wedge can offer support and access for anal play or vaginal rear-entry without undue strain for either partner.
For Him
Of course, there's no need for a male partner to be left out. He'll appreciate lying face-up with the wedge under his hips – cowgirl works great with this support, or his partner can easily add prostate play to that special blow-job.  Turn him over and continue the anal play by hand, with a dildo, or with a strap-on, and still have easy access to his genitals for more pleasuring.
Our Rating

We live, work and travel year-round in our twenty-nine foot motorhome, where storage space is at a premium. The wedge fits easily in our under-the-bed storage and is definitely an essential accessory, well worth packing along.
Disclosure
We obtained our wedge from Chicago-based http://www.early2bed.com/ – a sex toy store, sex education resource and sex-positive website/blog. We selected it as part of a gift certificate we won through

a contest at Get Lusty for Couples, a blog we follow and for whom we now write occasional columns and reviews.