Favorite activity for staying vibrant, healthy, excited and sexy, that is!  Here are two of ours – inspired by the reason I am late posting today's Stay Sexy blog: Travel, and biking.
Travel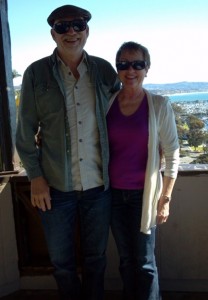 Hubs and I both love new experiences, exploring places we've never been, settling in to beautiful parks where we can enjoy the outdoors, learning local history, visiting museums – the works. Back when we still had day jobs, we'd carefully save up those precious vacation days so we could leave the Midwest and sample places like Sedona, San Diego, Cancun, Las Vegas, New Orleans. Now that we're writing and editing full time, we're not bound to any one place – we're traveling year round in our motorhome. This winter we focused on the southwest and have seen Los Angeles, San Clemente, Palm Springs, Las Vegas, the Painted Desert…
And now I'm late because of a wind storm that changed our plans. Perched on a hill in Albuquerque for two days, we watched the forecast and decided last night to make a break for it this morning and try to get to Santa Fe ahead of the worst winds. We survived a wakeful night feeling the motorhome get buffeted by every gust and wondering if things would still be intact by morning. They were, and we took off – and now we're here in Santa Fe, poised to experience this incredible center of culture, art and history.
It's hard to describe all the benefits our travel brings us – rejuvenation, new learning, new interests, surprise, problem solving, relaxation, and just simple joy. We plan to keep this going for as long as we're able, and we know it's part of what keeps us young in body and spirit.
Biking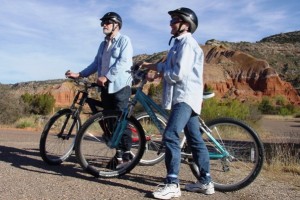 On the back of our motorhome, on a rack mounted on the coach ladder, are two twenty-one speed mountain bikes,  a Trek (mine), and an unknown vintage/brand with dual suspension (his). We're not distance bikers and we rarely tackle mountainous trails, but we're always looking for RV parks with accessible trails and interesting side trips, and we bike more days than not, even if only around an RV park.
Any aerobic exercise routine will deliver most of the benefits of biking – support for our brains to develop new neurons and connections, increased mental capacity and alertness, the wonderful buzz of the aerobic "high," decreased pain, keeping our joints supple and our muscles firm, increasing overall endurance, flattening the abs and working the obliques. What's added, for us, is the pure pleasure of simply being outdoors, feeling the wind in our faces, soaking up the sunshine, and sometimes, going places a car won't take us.
Stay Sexy
And of course both these activities have tremendous payoff in the bedroom (or wherever else anyone chooses to be sexy…). Here are just a few – increased sexual endurance, increased capacity to try new and more strenuous positions, overall improved mood and energy levels, and an attitude of openness, excitement, and optimism.
What are your favorite Stay Sexy activities?
We'd love to hear – and we're looking for Romance authors and readers to interview for this column, so leave a comment here or drop us a line, and maybe we'll include you in an upcoming feature!