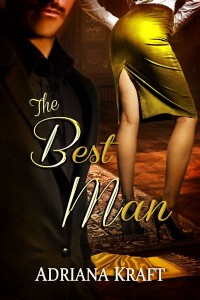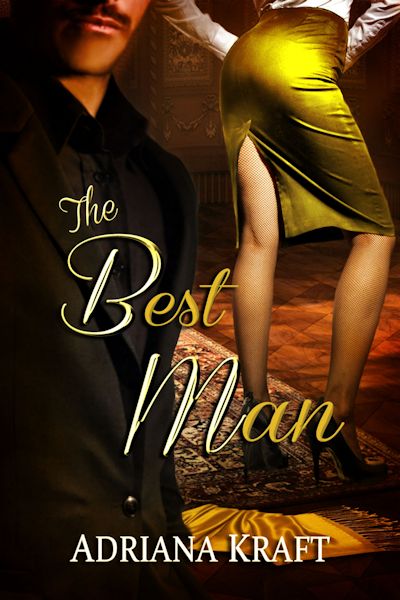 I've been thinking a LOT about scarves lately – did you notice there's a scarf featured on the cover of our June 1 release, The Best Man? Slight confession – hubs says when he first saw this cover, the scarf wasn't exactly what drew his initial attention!
Have you stopped to wonder whether the scarf has already been used and dropped, or whether they're  about to pick it up? In keeping with our Stay Sexy theme, more importantly, have you wondered what they plan to do with it? Will one of them be tied up? Will each of them, in turn, tie the other up? And what kind of sweet torture will take place, in either case? We hope Kitty and Jared's scarf scenes will be something readers might like to try with a partner, or at least, that the scenes will drive satisfying erotic fantasies.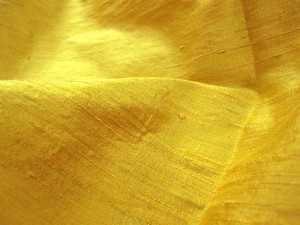 It turns out Kitty has an extra scarf, and she's willing to share it! Hand-finished by none other than yours truly, the 72" x 40" yellow scarf is made of genuine Thai Dupioni silk, just like Kitty's. Here's a picture of the fabric.
How to win? All you have to do is leave us a comment about The Best Man any time all month, here on our blog, or on our June blog tour! (Scarf is for a U.S. winner only; equivalent value prize if winner is international). Talk to us about scarves or bondage play, about bad girl heroines and the bad boys who love them, about The Best Man setting, or anything that strikes your fancy.
Here are the first several stops on our tour to get you started:
Friday, May 31: Destiny Blaine 
Saturday, June 1: Ella Jade 
Monday, June 3: Elizabeth Black
Wednesday, June 5    Night Owl Reviews
Check back here at our blog or be sure to follow me on my FaceBook Page , Twitter, or Google+ to be notified of the rest of the June tour stops. The more you comment, the more chances to win! Any comment anywhere I'm blogging about The Best Man is an entry. Contest runs through July 31 and the winner will be selected and notified the first week in August.
Good luck, happy fantasies, and stay sexy!