Did you catch Brian Williams on NBC Nightly News this week when he reported that sex really doesn't burn a lot of calories? Just in case you didn't, here's the LINK.
Both my husband and I have backgrounds as academic researchers, so we went looking for the data behind his statement. Turns out it's true – in a way. The study was reported this past week in the New England Journal of Medicine. The researchers set out to examine commonly held beliefs about weight loss, dieting, and burning calories, and came up with the conclusion reported on the news: Sex really doesn't burn a lot of calories.
But, the statement is also not true, in an important way. Here are the facts, quoted from a summary of the Journal article:
Fact: You've probably seen calculations saying that sex torches up to 300 calories. Yet the only study that actually measured the energy output reported that sex only lasted an average of six minutes and burned just 21 calories.
Did you catch that? The "sex" that doesn't burn a lot of calories lasts an average of six minutes.
Hmm. The elliptical machine at the gym where I work out gives me a constant readout of how many calories I'm burning. I typically go for ten minutes and move on to another machine – yesterday, my ten minutes burned about 32 calories. If you do the math, that comes out almost the same as sex: 35 calories in ten minutes. Advantage, sex.
So the issue isn't really how many calories you're burning having sex – it's how long you stay at it!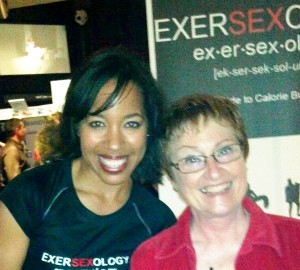 For a fun take on this issue, we'd like to report on someone else who is doing some exciting informal research on sex and calories. A couple weeks ago at the Adult Entertainment Expo in Las Vegas, we chatted with Monique Hallowell, author of the new book Exersexology. Technically, that term means "The study of calorie burn during sex." Truly!
Monique is a fitness expert who started an informal study by sending fitness professionals home with heart rate/calorie monitors to record their activities and the calories burned. As she explains, "within two weeks of the case study, some of the fitness professionals wore the devices while having sex." What she found corroborates the data shared by the New England Journal: having sex burns about the same calories as many other forms of exercise.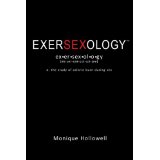 She was inspired to pour her data into creating her new book, Exersexology, which offers twenty six different sexercises: cycles of sex positions, along with a report of the average calorie burn of participants who completed the cycle and shared their data. There's one for each letter of the alphabet, from The A Game to The Zodiac. Definitely an invitation for fun!
You can participate, if you'd like – anyone is welcome to put on a heart rate monitor while engaging in one of her sexercises, then log onto her site and report the data. You can bet the two halves of Adriana are pledged to do this – looks like a lot of fun!
We highly recommend the book and Monique's website, and we hope to be back with an interview of her later in our Stay Sexy series.
Links for Exersexology
Exersexology WEBSITE
For a sample "sexercise," click on About the Book
Buy at Amazon
Have fun, and Stay Sexy!