Oh my! A few weeks back on Stay Sexy we ran a column on exercise and sex and mentioned Monique Hallowell's book, Exersexology. We promised to try one of her "sexisodes" and report to you. Here's the scoop, but first, a little info about the book: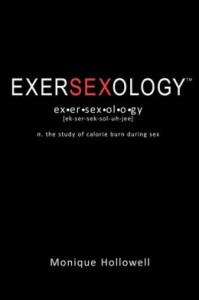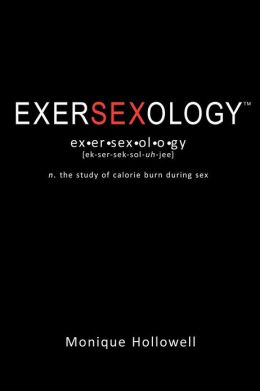 Monique is a fitness expert who started an informal study by sending fitness professionals home with heart rate/calorie monitors to record their activities and the calories burned. As she explains, "within two weeks of the case study, some of the fitness professionals wore the devices while having sex." What she found was that having sex burns about the same calories as many other forms of exercise.
She was inspired to pour her data into creating her new book, Exersexology, which offers twenty six different sexercises: cycles of sex positions, along with a report of the average calorie burn of participants who completed the cycle and shared their data. There's one for each letter of the alphabet, from The A Game to The Zodiac.
Here's what we learned: First off, the fun doesn't begin when you start one of the sexisodes – it begins when you open the book, look at the diagrams with your partner and start talking about which ones you'd like to try. It's like browsing through thumbnails of the Kama Sutra – an amazing array of possible sex positions, many familiar, a few we'd never tried, and probably a few that are reserved for a much younger set than us baby-boomers.
Just the planning phase was a heady mix of laughter and arousal – we very nearly derailed our plan to be planful. I'm sure if we hadn't been so set on gathering specific data about calories burned, just scanning the diagrams would easily have led to a steamy encounter, which is a major reason we're recommending the book for couples.
But persevere we did – ultimately selecting a sexisode we thought we'd (a) enjoy and (b) be able to complete. "Quintet" filled the bill pretty nicely – but we have to confess, we cheated. We tend to like a little oral play before going for penetration, and the five Quintet positions don't offer any – so we chose to steal a position from "Famish," which is all about the eroticism of your oral zone.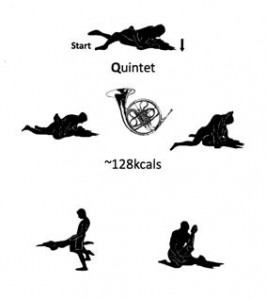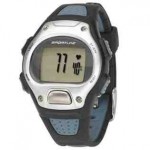 That gave us six positions, and we decided to engage in each one for three minutes. We just happen to already own a heart/calorie monitor, a purchase I made a while back after reading another book we'll be blogging about in the near future. It's a simple wrist monitor, made by Sportline, that requires occasional finger taps to record heart rate, and will calculate calories burned based on age, gender, elapsed time and average heart rate.
We decided hubs would wear the monitor for this round, since it looked like the positions would offer more exertion for the male than the female (this varies greatly across the sexisodes, so women get their turn, too). This sexisode was definitely aerobic – his heart rate stayed up about where it does when he's on his stationary bike with his cardio workout, and at one peak moment J actually exceeded his normal workout data. At three minutes a position, we lasted just about eighteen minutes, and the monitor reported a total of sixty calories burned for his effort. This is pretty close to data reported by another source, that six minutes of sex burns twenty-one calories.
Are we going to skip the gym and confine our workouts to just the bedroom? Probably not – even couples much younger than ourselves might find it daunting to have sex often enough and long enough to meet all their workout needs. But was it fun, challenging, and a positive addition to our sex life? Absolutely!
We warmly recommend this book as a resource for amping up the spice in any couple's sex life. We do have one caveat – the positions and illustrations are geared to a heterosexual couple, thus obviously focused on the sex acts that can be enjoyed by a male and a female together. Many of our friends, our characters, and our readers are part of the LGBTQ community. If this includes you, we encourage you to change it up to fit your needs, and we're sure Monique would welcome feedback from you.
Monique has agreed to let us interview her for our blog, so we'll be back with more about this sexy book later this spring. In the meantime – have fun, and stay sexy!
LINKS TO STAY SEXY POSTS
Stay Sexy
Does Sex Burn lots of Calories?
The Sexiest Thing…
Interview with Cassandra Carr
Erotic Fantasies
A Sexy Workout Fave