Wow. We did it – hubs and I, who co-write Erotic Romance for Two, Three, or More, sprang for the cost of the tickets and went to yesterday's Adult Entertainment Expo, part of the AVN Awards celebration this week in Las Vegas.
If there was one person I wanted to meet (and never dreamed I could), it was Nina Hartley. We started watching her videos more years ago than probably she or we would like to confess, though it's clear we do share baby boomer status with her.
As fans of our Swinging Games series can probably guess, we accessed adult videos (and yes, they were video cassettes) to spice up our own sex life, a daunting challenge with young kids still in the house and the inevitable effects of aging starting to settle in.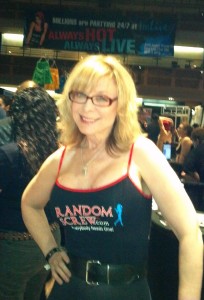 We were in the right place at the right time. Nina's part of a new lifestyle website (more on that in an upcoming blog) – we had no clue, but were just browsing booths and saw her pic. I asked the staff person if she would be there – YES! In ten minutes! You can believe we waited for her – and I was first in line.
What I said:
"Nina, you changed my life."
What we talked about:
I was astounded. After I told her how much we've loved her films, she started talking about how our bodies change as we age, and how important it is to believe in ourselves inside, remember what it felt like to be twenty nine, and enjoy our bodies as much now as we did then. More, in fact – she shared that, and I totally agree. I am having more fun in my body than when I was twenty nine, for certain!
What I wish I'd said: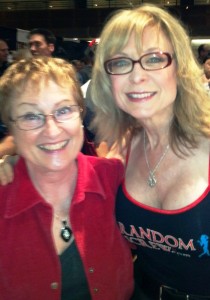 That she was at the center of a profound series of changes in my life, and I am grateful beyond words. Of the videos we started watching, hers were the most engaging – it's no surprise I like a storyline, which so many of hers deliver, and I loved watching her body and her sensuality. Naked Hollywood was my favorite series, and we bought them all.
We definitely benefitted from a jump-start to our libidos. That led us, somewhat later, to try our hand at writing the kinds of stories we liked to watch – so Nina, if you're reading this, I don't think we'd be a published erotic romance author, if it wasn't for your adult films.
Good luck at tonight's Awards Ceremony!!