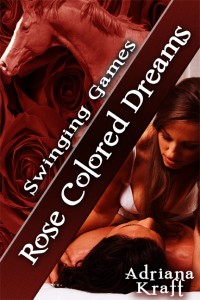 Run for the Roses – A whirlwind weekend of high-end horse racing and sexy swing parties. Anyone can dream on Derby Day!
Sometimes "good ole' fashioned sexy" isn't about hot and heavy, it's about keeping the dreams and adventures alive with that special someone.
EXCERPT
"What do you dream about at this point in our lives?" Jen asked. "It's not like we haven't fulfilled many of our dreams already. After all, I did entice you into discovering me."
Laughing, Brett nodded in agreement. "That you did. Lucky me."
"Lucky me."
"So what do you dream about? What do you want us to dream about?"
"It's funny." Jen paused. "When I look at the broad picture—what you and I have, what we do, how we're living our lives—there's really nothing I'd add. I love our life. I'm not sure when I was in my twenties I ever even dreamed life could be this good—especially that it would be so full and satisfying in our mid fifties. I don't know, maybe I thought we'd shrivel up or something. I know I didn't think about having so much sex in our lives, or sharing it with other partners. I think I believed sex would stop by the time we were forty, if not sooner."
"Thank God that expectation failed."
"Yes, but it took both of us to move beyond the scripts we were given as kids. And we've done great—but I don't want to stop dreaming." She shuddered. "I think if we stop dreaming, it may be over. The inevitable will happen someday, but that day may be further off if we continue chasing dreams, old ones and new ones."
"That'll work for me, if it works for you."
BLURB
Brett and Jen join their horse-trainer friends at the Kentucky Derby for a whirlwind weekend of races and sexy swing parties. Perhaps a Derby win is out of reach – but what are the dreams that matter for them? It doesn't cost anything to keep on dreaming.
BUY LINK
MY SEXY SATURDAY

Be sure to click on the other participants to travel to this Saturday's sexy excerpts!