…with the moon on their wings
Oh. MY favorite things – well, the Sound of Music list works pretty well for me, it turns out.
So I'll top off this list of favorites with something from the original REAL Maria Von Trapp – I grew up listening to the Von Trapp Family Singers Christmas album every year. Perfect harmony, beautifully blended voices. That sound was Christmas for me and has never been replicated since.
In no particular order:
Music: making music, listening to music, moving to music.
Being outdoors: Here's a photograph I took on our Christmas Day hike in the Saguaro National Park, looking east toward Mt. Lemmon. I think Maria Von Trapp would have liked this, too, though the Saguaros would have been unfamiliar to her.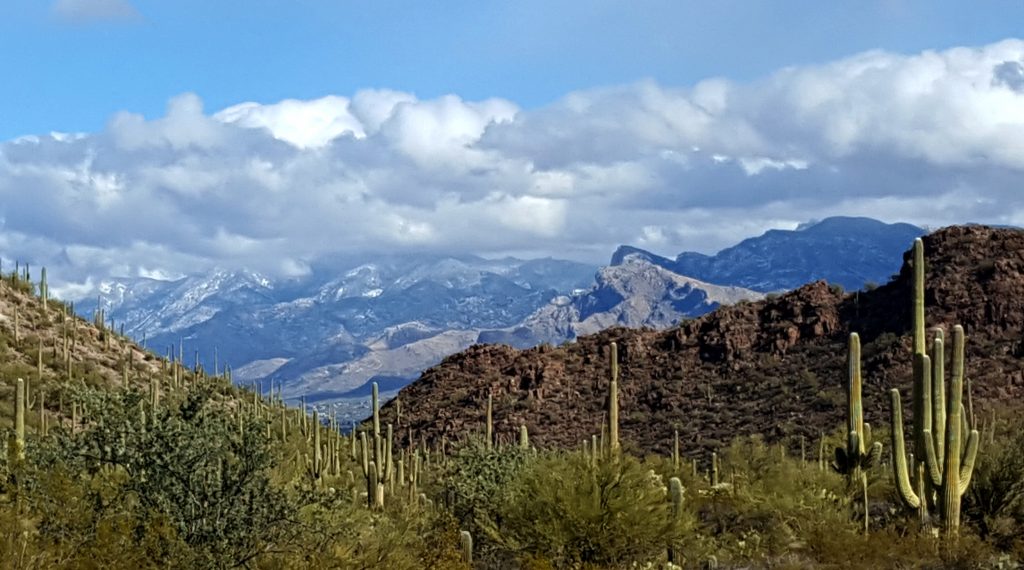 Reading: I'm an author, right? As a child, I would hole up in my room and read whenever possible, sometimes even causing me to miss dessert.  I'm grateful for a family who understood.
Traveling: We've retired (from day jobs) to the Southwest and spend summers traveling (and writing) in our motorhome. I can't imagine a better life, though I always loved my various jobs (therapist, counselor, teacher) when I was working full time. A couple favorite spots:
Taos Pueblo, NM                          Cathedral, Merida, Mexico
Staying healthy: strongly related to all of the above. I could do none of these things if I didn't have my health, and I invest a lot of time and energy doing whatever's within my power to maintain it.
There's lots more, but this hop has fifty-one more weeks, plenty of time! One thing I noticed – all these faves are things I do, not things I possess. I like that. What are some of your favorite things?
This Blog Hop is sponsored by Marketing for Romance Writers. Check out everyone else's favorite things below. We don't just sell books (though we do love to do that), we're all real people who love connecting with readers about all the things that matter to us.