Welcome to Week Seven of the MFRW Blog Challenge! Music to Write By ~ what a perfect topic the week after the Grammys, which kept us glued to the TV all the way to the end! Fabulous testimony to the power of music.
I nearly got lost in the world of famous quotes about music to come up with this week's meme from Shakespeare's Twelfth Night, which I chose because it's historic, it's from a famous writer, and it's about love. We're romance writers, after all.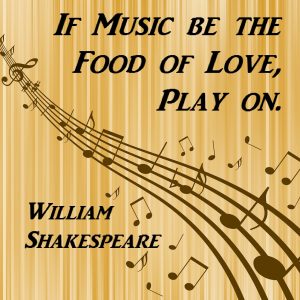 But it turns out I couldn't choose just one quote, so here's my pick of the best of the rest of the competition:
"Music is a language that doesn't speak in particular words. It speaks in emotions, and if it's in the bones, it's in the bones." ― Keith Richards
"If I were not a physicist, I would probably be a musician. I often think in music. I live my daydreams in music. I see my life in terms of music." ― Albert Einstein
"Music was my refuge. I could crawl into the space between the notes and curl my back to loneliness." ― Maya Angelou
"When you make music or write or create, it's really your job to have mind-blowing, irresponsible, condomless sex with whatever idea it is you're writing about at the time. " ― Lady Gaga. And didn't she totally rock that Superbowl halftime show?
So what music do we write to? As you know, two of us write together under our pen name, and we write to different music. In different rooms, I might add.
Mr. Kraft loves several genres of music, including contemporaries like Lady Gaga, Taylor Swift, and Adele, as well as both rock and roll and country from the fifties to the present. But none of those top his list of music to write by. Both of us have come to love Celtic music, even before we saw Riverdance and Michael Flatley's Lord of the Dance live in the eighties. We each have Celtic roots in our ancestry (among other things), so the music speaks to us across the centuries. He's most likely to have several Celtic CDs stacked in the player to encourage his muse. We also find these tracks helpful in establishing an erotic ambience…
Here's one of his favorites: Down by the Salley Gardens, with Joanie Madden on the flute: https://www.youtube.com/watch?v=4LrZa-QcNQA
Though I love all of the above, I grew up in a home filled with classical music, started piano lessons at age five, and went on to play the pipe organ and the recorder (wooden flute), then branched into folk music with guitar and hammered dulcimer. Perhaps because I studied so much of Bach's amazing organ music, it's the Baroque era that fills my soul and most speaks to me as I'm writing and editing. If we have past lives, one of mine must have occurred between 1600 and 1750. The music is in my bones, always familiar even if it's a piece I think I've never heard in this lifetime.
I've sung in choirs, glee clubs and community choruses all my life, and choral music (secular as well as sacred) stirs me just as deeply. But when I'm writing, the distraction of the words is too much, so I stick to orchestral.
My all-time favorite Baroque piece is Bach's Air on a G String (as an author of erotic romance, you bet I'm aware of the double entendre  🙂 ). Pachelbel's famous Canon in D is a close second, but I've known the Bach longer. You can listen to it here:
https://www.youtube.com/watch?v=rrVDATvUitA
I can't wait to see what everyone else writes to – click on the links below to find out!