Do you follow horse racing? We do, and did even before we got together. I won't say that's the reason we connected, but we've had a fun ride indulging our passion for horses and horse racing. We have our eye on the Breeders' Cup races at Del Mar this weekend. This headline from yesterday morning's news brought back memories…
Favorite is scratched from Breeders' Cup Juvenile
Jack Christopher, whose 2-for-2 record and big speed figures made him the morning-line favorite for the Breeders' Cup Juvenile, suffered a left-shin injury and will not be able to compete in Friday's race at Del Mar. VSIN.com
A small inheritance a couple decades ago enabled us to briefly own race horses. Mr. Kraft and a trainer friend attended the Barrett's fall sale in California and came home with two beautiful thoroughbred fillies.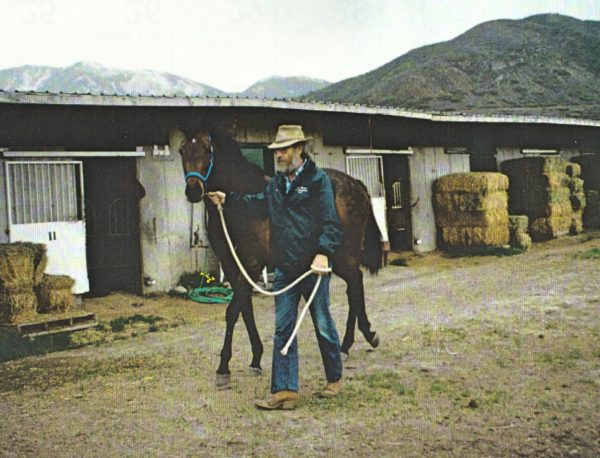 Rainbow's Legacy was stunning to watch at the barn and in the exercise ring – up on her toes, ears forward, full of energy. She knew she was top dog – you can see how alert and interested she looks in this photo with Mr. Kraft walking her. We couldn't wait to race her.
And then came the morning we discovered she had a bowed tendon.
We know the horse who can't run in the Juvenile can heal from his injuries – he'll run more races, he has a chance to qualify for the Derby and Triple Crown races next year, and he'll be able to stand at stud. All is not lost – but still, the angst and disappointment felt by all his connections who came to California with such high hopes has to be thousands of times as bad as what we experienced with Rainbow, even though her injury meant she could never race. Our trainer kept her as a brood mare, and she had three offspring who were competitive in low-end races.
We poured all the ups and downs of these experiences into our four-book Horse Racing series, Riders Up, available on Amazon and Kindle Unlimited. If you love horses, romance, and suspense, you'll love the horses, heroes, and heroines in these four stories.

Cassie's Hope
High stakes, a fiery Irish redhead, her stunning racehorse, and a fiercely loyal rancher
https://www.amazon.com/dp/B00GDWTUGY
Heat Wave
Hang onto the land – but at what cost? Feisty widow hires ace racehorse trainer to salvage her family's heritage. Can they survive escalating threats to life and limb?
https://www.amazon.com/dp/B00GDWTUGY
Willow Smoke
When the chips are down, there's nobody there. Willowy blonde Daisy Matthews has survived the Chicago streets with this mantra but is unprepared for the much older Nick Underwood's urgent pursuit.
https://www.amazon.com/dp/B00N0DH13I
Detour Ahead
Threatened race horses, city slicker attorney, sexy California wrangler—what can possibly go wrong?