Today is a special day in our own faith, and for those who share it, we wish you a Merry Christmas.
Did you know the world's seven major religions observe no fewer than twenty-nine holidays between November 1 and January 15? This includes many of our friends and possibly some of you who are our readers. In our personal faith, we honor all paths to what is pure and holy, so we wish to extend special blessings to all who celebrate this season.
Somehow "Season's Greetings" and "Happy Holidays" fail to convey the spirituality and depth of what we wish for you, so perhaps the best words are Blessings for your Celebrations.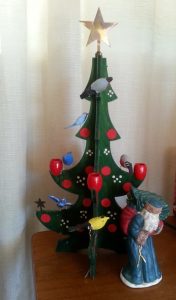 In that spirit, here is a snippet of our own observance. Neither my sister nor I can remember how the Swedish Christmas Tree in the photograph came to live at our house, but as far back as I have Christmas memories, we watched our mother carefully unpack this simple tree from its flat box, assemble the two main pieces, and delicately place each ceramic or clay bird on its perch. Red candles were always inserted in the candleholders, and they were lit, along with the Swedish Angel Chimes, during Christmas Dinner.
My husband and I, who write together as Adriana, have set the tree out every year since it came into our possession.
The tree is filled with an abundance of berries and birds. In that vein, we wish you beauty, bounty, birdsongs and blessings in this special season, and we'd love to hear what some of your traditions are, from whatever faith.