New Release from Kate Hill! @katehillromance #Blogtour #MFRWAuthor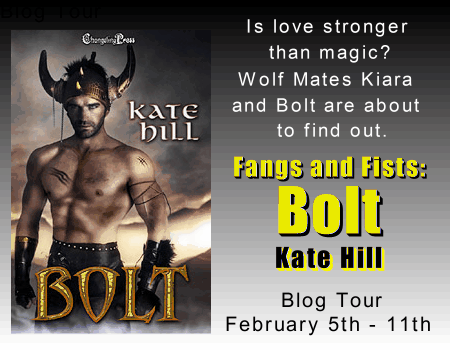 Fangs and Fists 1: Bolt
by Kate Hill
An erotic paranormal romance from Changeling Press.
In a futuristic world ruled by demons, werewolves are enslaved to fight in gladiatorial matches for the amusement of their evil masters.
Kiara remembers what life was like living free–before she was taken by demons and bred to gladiators so that the new generations of wolves would retain their ferocity but forget their freedom. Mated to top gladiator Grit, she has a son with this surprisingly gentle lover who is also planning their escape. When Grit is killed in the arena, his close friend Bolt upholds his promise to protect Kiara and the cub.
Bolt and Kiara have loved each other from the moment they met, but they buried their feelings because she was mated to his best friend. When Grit dies, despite their guilt, Bolt and Kiara surrender to their desire for each other. Will their love be strong enough to help them win freedom from their evil masters?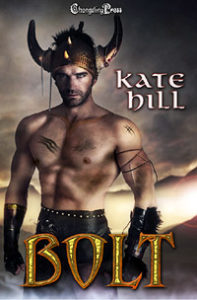 Excerpt:
Startled, Kiara jumped to her feet, her senses alive.
Two guards shoved Bolt inside. Naked and covered from head to toe in dried blood, he stood, trembling visibly. His blue gaze found hers and Kiara felt a bit ill. She'd never seen him like this.
"She's yours now," said one of the guards. "We'll remove the cub of her previous mate."
Kiara nearly panicked. She growled, her inner wolf on the verge of attacking the guards, futile as it would be. Still, she'd rather die fighting to protect Jett than willingly surrender him to these monsters.
"No," Bolt said. "The cub is too young. Let her keep him for now."
"Very well," said the second guard. "But it will soon be weaned. Do your duty, wolf. She's a healthy female and ripe for more offspring."
The guards marched out, leaving Kiara and Bolt facing each other.
Kiara wasn't sure about the severity of his injuries. The blood covering him didn't look fresh, which was good. Apparently any wounds he'd sustained had started to heal.
She couldn't begin to guess what he'd endured.
"Come sit." Kiara reached for his hand. It was ice cold and he jerked away.
"I'm a mess."
"It's not the first time I've had blood on me," she said, remembering the days when she'd hunted with her pack.
This time when she took his hand, he tightened his grip so that it was almost painful and followed her to the washroom. She turned on the water in the black tile shower.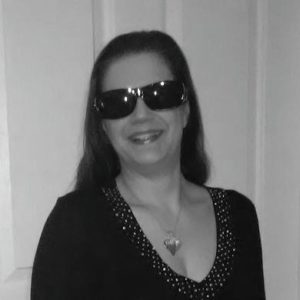 About Kate
Always a fan of romance and the paranormal, Kate Hill started writing over twenty years ago for pleasure. Her first story, a short erotic vampire tale, was accepted for publication in 1996. Since then she has sold over one hundred short stories, novellas and novels.
When she's not working on her books, Kate enjoys reading, working out, spending time with her family and pets and running the Compelling Beasts Blog, dedicated to antagonists, antiheroes and paranormal creatures. She also writes under the name Saloni Quinby.
Links:
http://www.kate-hill.com/compellingbeastsblog
https://www.amazon.com/Kate-Hill/e/B002BLS7OW/ref=sr_tc_2_0?qid=1485103167&sr=1-2-ent
http://www.facebook.com/katehillsaloniquinby
https://www.goodreads.com/author/show/16157.Kate_Hill
https://plus.google.com/110359814167605096582
http://www.twitter.com/katehillromance