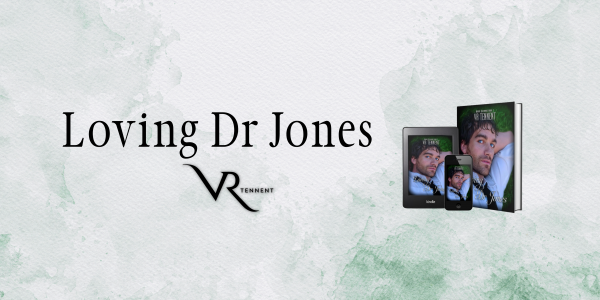 A raw and emotional love story.
Thank you so much Adriana Kraft for inviting me to be involved in your blog. I'm a new author and started writing in January 2022. My debut novel Loving Dr Jones was published by Extasy Books in September. This is book one of my series, Moral Dilemmas. Book two will be released in October. It's been a steep learning curve from starting to write to publication, but I've loved every step and met amazing people in the process.
What people are saying about Loving Dr Jones.
"This is one of those books that you pick up and read in one sitting. Make sure to buckle up though because this is a massive roller coaster of emotions! The descriptions given throughout the book make it seem like you are watching a movie and not reading a book. I could vividly see and feel everything these characters experienced, and the ending left me bawling like a baby. I am NOT a person that usually cries during books but goodness this one got me. Very well done! VR Tennent has been added to my list of authors that will have automatic reads." Tiffany, Goodreads.
"Never have I ever read a book that made me feel so many different feelings! I don't cry when I read…but this one had me in tears! Were there triggers, sure. Were there moments when I was furious with the author…YES! When I finished this book I continued to live in it for over a week! You must take a risk on this new author because the only risk is for the safety of your iPad or phone. I hope you have a waterproof/shatterproof case!" Jess, Goodreads.
Check out more reviews here: Loving Dr Jones (Moral Dilemmas Book 1) by VR Tennent | Goodreads
BLURB
What happens when the woman you marry isn't the woman you want? Your heart fights with your head and a lot of people you care about get hurt.
Being the other woman was never my goal. But loving him made it impossible not to be. A love triangle between lifelong friends certainly complicates the issue.
From the moment I realised we couldn't be together, I hit the self-destruct button. Life gets complicated and tragedy appears out of nowhere. Loyalty is tested. And love is denied.
Our passion is real. Our feelings strong. Our story heart-breaking. He was never mine to begin with, but every moment in his arms was precious. No one is ever promised a happy ending, but for me loving him was worth the risk.
Will he ever choose me?
Trigger Warning: Contains adult themes, including infidelity, terminal illness, and drug use.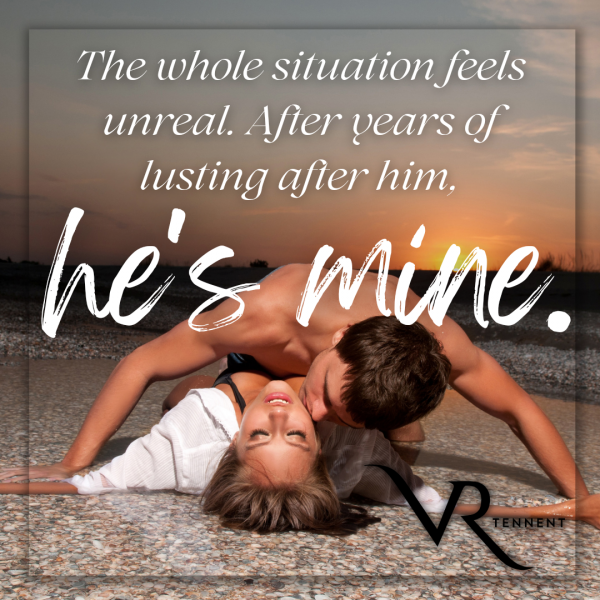 EXCERPT
My head is going to explode.
It's official.
I am going to die from an explosion of the brain. Lying in bed, I curse the concoction of alcohol that flowed down my throat last night. Right now, stars—no, meteorites—are flying around my skull, crashing into and destroying any brain cells they connect with. Keeping my eyes screwed shut, terrified of the light, the sun beats through the window onto my face. Obviously, I was too drunk to even close the blinds.
Mustering enough courage to open one eye, I snap it shut. Perhaps the other one will be less agonising. No, it feels like someone is stabbing at my eye sockets with a toothpick. Eventually, both eyes open. The ceiling is swirling out of control. My stomach retches.
Another Sunday morning lost to the demon drink. Another weekend ruined.
I moved in two years ago. Nothing has changed. Creating my own home isn't important. Nothing here reflects my personality apart from being unloved. Seventies styling from when the previous owner modernised it all those years ago decorates the walls. The retro flooring running throughout is old and worn. I tell myself this makes the apartment look lived-in, but in reality, it just looks dilapidated. This place can make you feel drunk even when you're sober.
A familiar dread creeps through the alcohol fog. What happened last night? What did I say? More importantly, what did I do? Reaching across to retrieve my phone, I baulk waiting for the evidence of last night's embarrassing antics. It wouldn't be a Sunday morning without a social media tag for a humiliating moment.
Typically, my morning-after newsfeed is littered with photos and comments, evidence of my drunken shenanigans. This would be perfectly normal, even acceptable, for a student or someone in the process of finding themselves. But for a thirty-three-year-old Director of English at the prestigious Hilltop Manor Academy, not so much.
Things have become so bad that I'm using an alias on my social media accounts, unfriending and blocking anyone with a link to the school. I considered removing my internet presence, but then monitoring any negativity would be impossible. It would not be the first time I have tracked someone down, appeared at their door, and begged them to remove embarrassing footage.
I lie back on my pillow and hit the familiar blue app. Nothing. Not one photo or notification. My mind tries to recall the previous evening.
We arrived at our local tavern, The Smoking Goat―our usual Saturday night haunt. The first few drinks went down too easy. I could murder for a vodka and coke right now. But after we moved on to shots, it all went fuzzy. Nope, nothing. I shake my head to try to clear the fog. What happened? How did I get home? Why the fuck is there nothing on my socials?
I always get a group picture.
I always post it.
I click onto my best friend and long-suffering sister's page. Amy is my rock. No matter how embarrassing I become, no matter how loud, how unbearable, she scoops me up and takes me home. Her page is empty; she was definitely there last night. I vaguely recall her shrugging her shoulders at me. No doubt I asked the same question I've asked her ten times before.
As Amy's page is giving me no clues, I jump over to Kelsey's. Saturday night is always spent with the same people. We drink, dance, fall, and ultimately, vomit together. Squinting at the screen, her page looks different. I can only see limited information and her profile picture: an old photo of her and her late mother sitting out the back door drinking tea. I smile at the sweet memory. Scanning the page, I try to make sense of it. A new button has appeared that wasn't there before. Add friend? She must have unfriended me as a prank. I smart at the cheek of her. Bitch! Add friend, my arse. She can add me.
Half-cocked, I flick through the photos on my phone, in search of answers. I find nothing useful. There are a few from early on last night, the usual posed group photos. Nothing out of the ordinary.
At the top of my page, the message box is blinking with one notification. I perk up. I love getting messages; it massages my ego. On the other hand, if someone doesn't respond to a message promptly, I panic. In ten seconds, I can convince myself they hate me, I've offended them, and I will die alone. The scenario plays out in front of me, and I recoil. Beating myself up is my favourite hobby.
The message pops up on the screen. It's Terry. We've been friends for years; he would've been there last night. My face falls on reading the first line.
Bex, where are you?
Confused, I read on.
You disappeared with him. Please come back. Don't do this to us. To our friends. You are being completely selfish.
My heart starts to race, and blood rushes through my ears. Screwing my eyes shut, I try to remember what the hell happened last night. Nope, nothing.
What I can't remember, my mind makes up. Never truly knowing what is real. I remember being in the bar. We were all there. Kelsey, Amy, Ben, Terry, and myself. Singing karaoke, I think. The boys were downing pints, and the girls, apart from Kelsey, were on the wine.
Kelsey and Ben don't get out much, having two little ones and another on the way. When they go out, Ben goes big. The shots arrived…then nothing. I race through my memories: drinks, crisps, laughing, falling over. Pulling back my sheet reveals a purple bruise on my thigh. I fell again.
Fuck, what if I was drugged?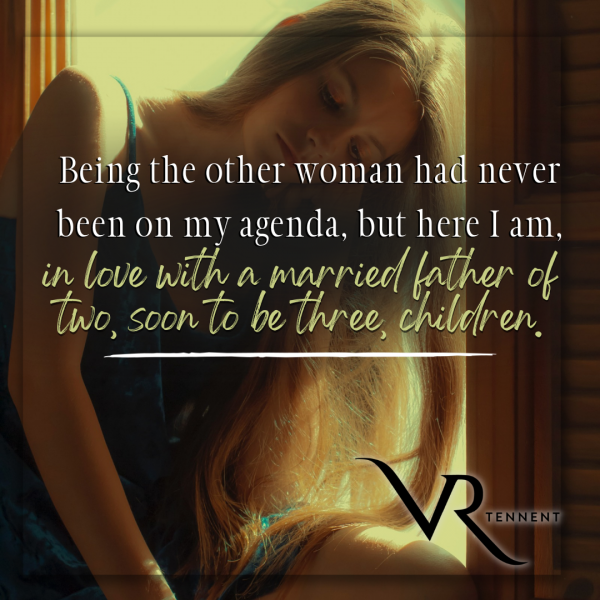 BUY LINKS

Extasy Books Loving Dr Jones (extasybooks.com)
Amazon https://www.amazon.es/dp/B0BD84PN31
Goodreads https://www.goodreads.com/book/show/62325316
Connect with me at the social links below
Facebook VR Tennent Author | Facebook
Instagram VR Tennent (@vrtennentauthor) • Instagram photos and videos
TikTok https://www.tiktok.com/@vrtennentauthor
Website www.vrtennent.com
Amazon Amazon.com: VR Tennent: Books, Biography, Blog, Audiobooks, Kindle
~ o ~
REVIEW from Adriana Kraft
Sizzling sex? Raw emotion? A heady mix of deep tragedy and joy beyond measure? This book has it all. If you're looking for a sweet, uncomplicated read, this isn't it – but you already know that if you got as far as its warnings: Contains adult themes, including infidelity, terminal illness, and drug use.
I immediately fell in love with both main characters (and yes, the cover shot of Dr. Jones fully holds up to the magnetism and raw appeal the author delivers with her words on the page). Who wouldn't love him? Plus he's not a rake – he's a good man. Bex is more complicated, but already lovable because so clearly flawed and unlikely to find happiness. I was so ready for them to find each other. Then through the middle of the book, I started thinking neither one of them deserved the other. Each of them made choices that eroded my love and respect. The thing about a good romance, though, is that characters get to grow. The lesson learning was both believable and transformative, and saved the day for me.
This is a real book, as in real life happens. Things go terribly wrong. Not everything can be made right again – but that doesn't mean characters give up or get cheated out of the joy they deserve. I can't say much more without creating spoilers. I'll just say this book should go to the top of your pile if you're looking for a highly satisfying (and very sexy) slice of real life. Oh, and there's a sequel coming. I can hardly wait.