We're thrilled Kayelle Allen has stopped by today for an interview! For readers who don't know, Kayelle founded and shepherds Marketing for Romance Writers, a source of superb information, support and opportunities for authors. She's also the artist who designed the marvelous header and logo at the top of this page!
INTERVIEW
Adriana, thank you for inviting me to share my immortal king and his story with your readers. I'll jump right in to a short interview about the hero of this series. I have an excerpt also and at the end, a giveaway for everyone.
Why did you call this series Bringer of Chaos?
Pietas is an Ultra, a scientist and warrior who was genetically designed. He's immortal and believes himself to be unbreakable, yet he has the most vulnerable, tender heart. He thinks he's grown immune to love. In this book, he discovers he isn't. Every Ultra has specific psychic and physical gifts. Pietas commands thought processes and can cast confusion, disarray, and fear. The gift is called Chaos, and he's a master. His own people gave him the nickname Bringer of Chaos.
This is a good place to give us the blurb for this book.
When the immortal Pietas is marooned on a barren world with no food and few survival tools, he knows it could be worse. He could be alone. But that's the problem. He's not.
Half a million of his people sleep in cryostasis, trapped inside their pods and it's up to Pietas to free them. He can't release one at a time. It's all or nothing. He's facing over five hundred thousand hungry, thirsty, homeless immortals will call on him for rescue and he has no way to answer.
It's not all bad. The beautiful telepathic warrior he's loved for lifetimes is at his side. He's bonded with a sentient panther. He hates humans but the one dumped on this planet with him has become a trusted friend.
Before Pietas can build shelter, figure out how to grow food, or set up a government, he must take back command from a ruthless enemy he's fought for centuries. His brutal, merciless father.
Immortals may heal, but a wound of the heart lasts forever…
What inspired you to create the series?
I've had the idea rattling around since I was a teenager. The Bringer of Chaos series steps back in time from my current story universe by several thousand years. I wanted to understand Pietas and I figured the best way to do that was to write his story. Once I finish the next book in this series I will jump back into the Tarthian Empire and write more books there.
Describe the main character.
Pietas has platinum blond hair and teal blue eyes. He's seven feet tall, slender but incredibly resilient and strong. He has a twin sister who looks nothing like him. Dessy has black hair and eyes the color of a stormy sky. She is his opposite in attitude as well. The motto of Pietas is "Honor. Always." Dessy's is "Winning is everything."
Is there anything unusual about your hero?
His personal code of honor requires Pietas to always tell the truth, no matter how uncomfortable. He makes no attempt to be cruel about it, but he will not bend the truth. At times, he omits details rather than lead a person to a conclusion he could have covered up with a lie. He will find a way to rephrase an answer or outright change the subject. His honor means more to him than life. If there is one force that drives Pietas, it is honor. He does the right thing, even if no one else will ever know.
Does he have any quirks?
Pietas does not use vulgar language. He's a soldier and hears swearing in the trenches, but to him, such language is a mark of the uneducated. For that reason, there is no profanity in this book.
What was his childhood like?
I don't think he had one. Although he was born like a human, his parents were not. Like all Ultras (other than Pietas and Dessy), they were created fully grown. They had no idea how children should be treated. I won't say they did their best. The twins' father reared them more like a science experiment than people and his mother, while she loved them, did little to protect her children from their abusive father. From the time they could hold a weapon, they were taught to kill. The topic at dinner was often, "Tell us a new way to kill humans." Small wonder Pietas grew up hating humans. It was as natural as breathing.
How does he view himself?
Pietas is powerful and beautiful and he knows it. He acts conceited, but that is a front for his enemies. In reality, he could not care less what he looks like. He chops his hair with a dagger and takes no credit for his appearance, other than his uniform. His father created Pietas to be as perfect as possible, including his looks. He lets his father take the credit for that. It was nothing he earned.
Would you like a peek at the immortal king's vulnerable heart? In this scene, Pietas has been playing with a sentient panther, a huge animal he calls Tiklaus. The name means "Loyal Warrior."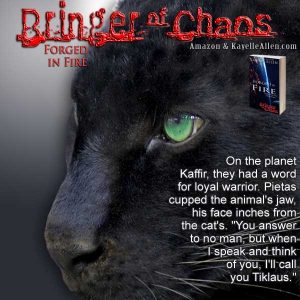 EXCERPT
Tiklaus batted at him, knocked Pietas onto his back and then flipped itself down beside him. The panther wrapped its front legs around his arm and gnawed at it in gentle play while the hind feet kicked him without injury. Claws flashed, but did no harm.
Now I know how a chew toy feels. Pietas blew out a breath.
When the panther draped itself over his chest, he struggled to slide out from under but could not get up. The animal weighed less than he did, but with no visible effort, it kept Pietas from rising.
"I concede, my friend. You win."
The panther ignored him.
"Tiklaus, off."
Nothing.
"Off, please."
The panther yawned, opening a huge maw. Fangs flashed.
Pietas tried a signal that worked with sparring partners and asked for release by double-tapping the panther's side.
The cat stood at once and stepped over him. It shook from nose to tail, then sat and groomed itself.
He stood and brushed himself off. Standing beside Tiklaus, who reached him mid-thigh, Pietas took pride in knowing this sweet, playful cat was also the snarling ball of animal rage that had nailed his father to the ground. Mahikos had not seen it coming.
Pietas should have let the cat eat him when he had the chance.
After ensuring no one was on the path in either direction, he knelt and scratched the cat's ears. "Who's a good kitty?"
The animal sneaked in a lick of his hand and face and flopped down on its back.
"My Tiklaus, that's who. Tiklaus is a good kitty." He rubbed the smooth belly. "Yes, you are! Such a good, big kitty. You're my kitty, aren't you? Good, good kitty."
The panther accepted the attention, one paw twitching. After a moment, it stood and shook itself. A purring sound rumbled from its chest. It sat, licked one paw and added a lick of Pietas's face as well.
He chuckled. "Thank you for the bath." He hugged the panther's neck. "You have as soft a heart as I do but you don't show it either. Pact, my friend. I won't tell if you won't." He kissed Tiklaus on the nose.
The panther bumped its head against Pietas, then bounded to a tree and up it.
Bringer of Chaos: Forged in Fire
Science fiction with romantic elements, space opera
Heat rating PG13 for violence. No explicit content or profanity
Available on Amazon and in print. Free on Kindle Unlimited
Review this book on NetGalley https://www.netgalley.com/catalog/book/127569
Giveaway
Here is a free adult coloring book to download and print, based on my character, Pietas. If you like dragons, you will love this. I hope you enjoy it! It contains original art. http://bit.ly/color-pietas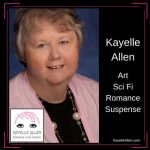 Kayelle Allen writes Sci Fi with misbehaving robots, mythic heroes, role playing immortal gamers, and warriors who purr. She's a US Navy veteran who's been married so long she's tenured.
https://kayelleallen.com
Twitter https://twitter.com/kayelleallen
Facebook https://facebook.com/kayelleallen.author
Join the Romance Lives Forever Reader Group Download four free books and get news about books coming soon. You can unsubscribe at any time.