Welcome to Midweek Tease, where we spice things up to help you get through the middle of the week!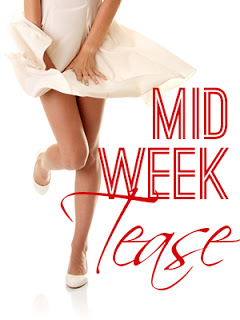 Our forthcoming romantic suspense, The Painter is a Lady, releases at Extasy Books March 17, so for the next few weeks our Midweek Tease will be drawn from its pages. We're celebrating the cover reveal this week with a Rafflecopter Giveaway—the sign-up form is after the excerpt. Be sure to travel to the other teases with the links at the end of the post!
Secrets. Trust. Courage. Who will knuckle under first—the war hero? The spirited single mom? Or the former high school bully who still hates them both?
BLURB
When war hero Michael Jarvis returns to his home town on the shores of Lake Superior, he doesn't plan to stay—he's undercover, investigating a possible sex trafficking ring operating on the Great Lakes. But he does want to sample the pesky girl next door he always turned down—and it wouldn't hurt if she'd clear up a few mysteries of her own along the way.
Successfully established as an interior house painter, Brenda Tower finally has her act together as a single mom—but it hangs by a thread, a secret she'll guard with her life. The return of her youthful crush Michael Jarvis threatens to unravel everything.
Jealousy has inflamed Brett Hill's hatred of Michael and Brenda for as long as he can remember. Revenge will be so sweet—and it will fit in perfectly with his high stakes game.
When the secrets break open, can Michael and Brenda find the courage to trust each other, or will revenge and betrayal triumph?
EXCERPT
Brenda bent over to pick up her paint sprayer, and Michael had everything he could do not to reach out and clamp his hands around her tight butt. She'd tempted him so many times, but he didn't think she was intentionally provoking him this time.
Yet she was in his blood. There was no way to tell her she was one of the reasons he'd accepted the Ashland assignment. It was memories of her that had kept him going, that had kept him alive in Iraq and Afghanistan.
He placed a hand on her shoulder and gently turned her to face him. She didn't resist. He watched her chew on her lower lip–she wasn't much calmer about their initial meeting than he'd been. "We're going to have to talk about your boy."
Her shoulders slumped.
He kept himself in check. It would've been so easy to gather her in his arms and make that tremble go away.
Wish List/Pre-order Link

Click HERE for more about our marvelous cover by Syneca Featherstone
Click HERE for another excerpt
ENTER OUR CONTEST!
One free download of The Painter is a Lady to the lucky winner! E-book will be sent March 17, when the book releases.
Ready for some more teases? Here are the links!