Welcome to Book Hooks, a Wednesday offering by members of Marketing For Romance Writers to share a little taste of our work and entice you into wanting more! Click on the links at the end to travel to other Book Hook posts, and enjoy!
Victim? Survivor? It turns out that's a choice – but prosecuting attorney Traci Steele doesn't know that when we first meet her in Detour Ahead. How she learns the difference – and what she does with that information – forms the heart of this book. In the meantime she has to solve a crime and figure out what to do with a sexy cowboy…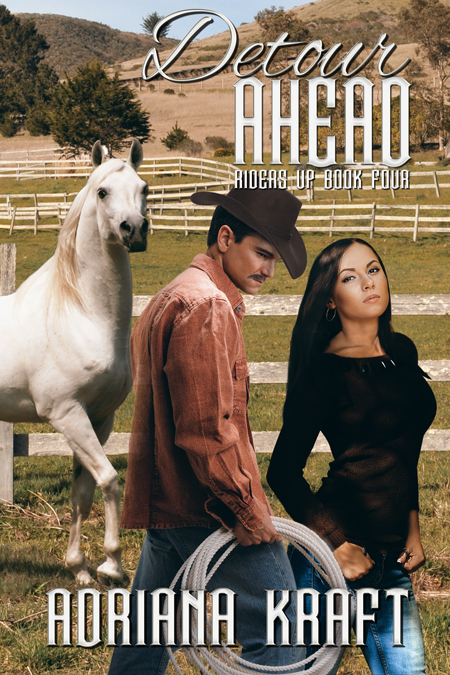 Threatened race horses, city slicker attorney, sexy California wrangler—what can possibly go wrong?
EXCERPT
Some of Traci's lessons come from her sexy wrangler, some from the horses he guides her to work with, and some from her best friend, Cassie Travers:
Traci nodded her head. "Yes, but that's not all of it. I couldn't shake the past."
"Right." Cassie plopped down on the floor beside Traci. "You were content with remaining the victim."
Jerking away from her friend, Traci said, "That's cruel, Cassie. Even from you."
"I know it is."
Traci saw the tears welling in Cassie's eyes. Her troubles were taking a toll on the small redhead and she vowed to hear the woman out. Sitting rigidly on her hands, Traci said, "Okay, spit it out. You'll bust if you don't."
"It's just that you don't have to continue being the victim of a rape that happened over a half a lifetime ago."
"You weren't there. How do you know?"
 BLURB
Hot-shot Chicago prosecuting attorney Traci Steele works tirelessly keeping rapists off the street to prevent other women from suffering the hell she's endured, so she resists her friends' insistence that she take a two month R&R in their California Live Oak condo—until they persuade her to help their rancher friend as a private investigator.
Though he runs the stables at Live Oak, well-muscled mustached wrangler Scott McCord much prefers working with the race horses he trains at his ranch, and he can't believe his old friends have sent a greenhorn female to help him with horse troubles.
The improbable dance between this mismatched pair barely fits in around the escalating suspense of whoever's after Scott's horses. Traci is as tenacious in her sleuthing as she is terrified about her inability to ever love a man. Can Scott succeed in gentling her – like he does his horses – before she flees in panic?
REVIEWS
Night Owl Reviews Top Pick This is a story about letting go of your past so you can move on to your future. It is a story about letting go of being the victim and becoming a survivor…Add into this touching story of recovery a mystery that will keep you guessing to the very end, and you've got a story you won't be able to put down. Angi
You Gotta Read Reviews Rich in romance and suspense, this book had me mesmerized from the first page. I was definitely drawn toward the main character, Traci, and all of the emotional barriers that she faced… a sensational job of combining just the right amount of suspense with a sauciness that leaves you longing for more. Run, don't walk to your nearest book store for this sensational book. Val
BUY LINK
http://www.amazon.com/dp/B00RPT6YJA/
Click on the links for the other authors in the hop!