Well, it finally happened – I got tagged! Fellow Extasy author Lynn Crain tagged me for The Next Big Thing blog – here's a LINK to her post, do go check it out!
That means I get to do two things – tell all my readers about my current work in progress (my Next Big Thing), and tag some more peeps to tell you about their next big thing!
And… (drumroll) the authors I'm tagging are:
Here are my answers to the Next Big Thing questions:
What is your working title of your book? Aria Returns
Where did the idea come from for the book? Hubs and I (who write erotic romance together under our pen name) have always loved Aria, the Love Goddess from our very first published book, Colors of the Night. We tend to think she just might be real, and we know she has lots more stories to tell. The kernel of this one has been niggling at us ever since Aria materialized out of the Northern Lights in her erotic romance debut.
What genre does your book fall under? No surprise here – it's erotic romance, with m/f, f/f, and three way menage f/f/m and m/f/m.
What is the one-sentence synopsis of your book? Amber Heath doesn't believe in magic, much less a Love Goddess – can Aria reach her in time to help her heal and claim the love that's waiting for her?
Will your book be self-published or represented by an agency? This book is under contract (yay!) with Extasy Books and will be released some time in 2013. Here's its fabulous cover, by Martine Jardin: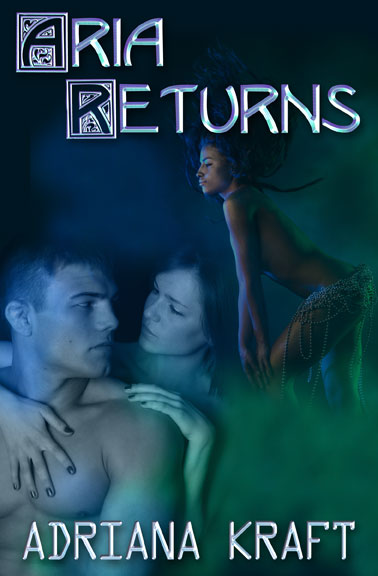 How long did it take you to write the first draft of your manuscript? Good question – since it's not quite finished! We've been working on this one off and on for a while – we hit a snag making the ending come out just right. Sometimes you have to set something aside until the characters are ready to speak to you. They've spoken, and we're madly polishing the final draft as I write!
What else about your book might pique the reader's interest? Time travel, exotic locations and experiences – and the challenge of forging a real relationship in this reality.