It's here!!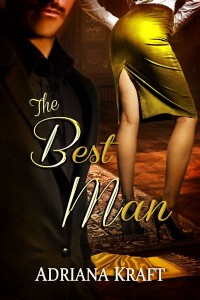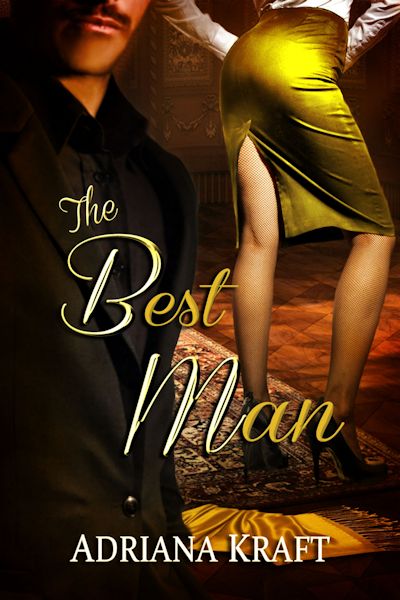 The Best Man is available at Amazon!
B&B Publishing: e-book
June, 2013
ISBN 978-0-9894693-0-2
ASIN B00D2YEZXE
Erotic Romance Novel, 56,000 words
Cover by Dawné Dominique
Bad boy meets bad girl. Is there anything more?
    BUY LINK

Heat Rating 




 Explicit sex: M/F; menage: M/F/M; multiple partners; sex toys; anal sex; light bondage.
FIVE STARS
I loved Kitty and Jared.  Both are strong willed characters who will not run from their attraction. Both expect a short but passionate affair, but their plans are upset when their emotions become involved.  Watching them both fight their feelings made their capitulation so much sweeter.… THE BEST MAN is excellent. Sheila, Shelfari and Amazon
BLURB
Passionate, hard working and every inch a business woman,Chicago realtor Kitty Paige likes her sex raw and edgy, and sees no reason to limit herself to just one man. Never married and not quite forty, the striking blonde has successfully raised her daughter, Susan, and is already pushing her new-found freedom to the limits.
Wealthy commodities middle-man and race horse owner Jared Jacobs is father of the best man at Susan's wedding. He is smitten by the vision in yellow who exudes sex as she escorts her daughter down the aisle. Also single, the handsome mustached California ranch owner with mischievous eyes views his sex life as a series of splendid love affairs, and sets out to make Kitty next on the list.
Together and apart, their chemistry is explosive, and their sparkling repartee and steamy sex catch both partners by surprise. Jared is first to recognize he's fallen in love. When Kitty panics, can Jared finesse his every move and reel her in?
– o –
It's hard to describe the excitement at our house this week as my husband and I finally realize a dream we've held for a couple years: Launching our own indie imprint and publishing our work independently!
It's been a long road with a lot of hard work and some major distractions along the way. Last summer, after dinking with ideas and vague plans for a year, we held an official board meeting (yup, just the two of us) and inked out a plan, working backwards from a projected February, 2013 initial release date. So we were only off by four months!
The learning curve (so far :)) wasn't as steep as I envisioned. We got a lot of help from some yahoo groups, a LinkedIn discussion group, some fellow authors at Midnight Seductions, and Guy Kawasaki's wonderful book, APE: Author, Publisher, Entrepreneur-How to Publish a Book. I can't tell you how many times I read and re-read that book. It was invaluable for its clear detailed instructions and pros-and-cons of various choices. Plus I really appreciated the material in the front of the book encouraging the would-be author to examine why write – some great cheerleading, at just the right moment.
So here we are: our fabulous bad-girl heroine, Kitty Paige, has launched her indie-published career by opening our book with what looks like one of the worst mistakes of her life, and we are excited to find out how readers will cathect to this amazing pair of characters who've held us in thrall for longer than we planned.
Here's an excerpt to tantalize you – watch this space for information about more excerpts, contests and appearances around the web in June!
EXCERPT
"Oh, God. Have mercy."
"Not this time, babe." Jared easily lifted Kitty's butt and slid one end of the scarf under it. Quickly, he had her loins encased in silk and handed the ends of the scarf to her care. "I won't be needing these for awhile. You may find a use for them."
Her fingers curled around the scarf and he settled between her legs. He laved the silk around the edges of her pussy and then looked up with a grin. "Isn't it amazing how silk feels when it gets wet—your juices and my tongue."
She tugged on the silk scarf, increasing the pressure against her loins, and nodded jerkily. "Make me come, Jared."
"Like this?" He tongued the silk covering her pussy and pushed a little inside her folds.
"Oh, yeah. That'll do it. A little more."
He lifted his head and shook it when he saw her distressed glower. "Not yet," he whispered, retrieving the scarf. "Not nearly yet. You won't come until I'm ready for you to come."