Welcome to My Sexy Saturday, where authors share seven words, sentences, or paragraphs from their work to entertain you and entice you into wanting more!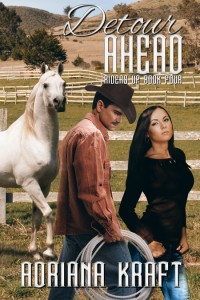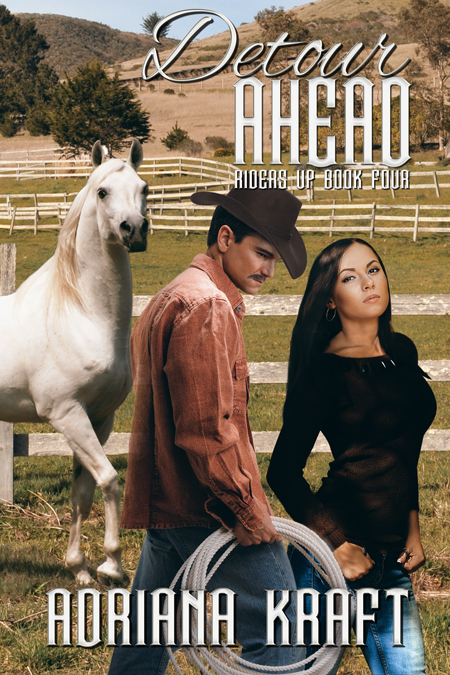 Detour Ahead (Riders Up, Book Four)
Threatened race horses, city slicker attorney, sexy California wrangler—what can possibly go wrong?
Last week we caught Scott and Traci in a slow dance – here's a peek at what Scott's feeling as they dance:
EXCERPT
Scott filled his lungs with Traci's fresh scent. He wanted to be gentle with her, but her body filled his empty spaces so well that he lost track of his intent. He pressed her body to his as if afraid they wouldn't have another time like this. Scott closed his eyes and swayed with the music, rubbing his nose and jaw through her ebony hair. It was like touching silk. He breathed deeply and her scent caressed his soul. She wasn't supposed to have such a powerful impact on him; he was here to help her overcome her past, not to succumb to her innate charm. He was cowboy and she was big city. Don't forget that. Enjoy. Please her. But don't forget.
Through how many songs had they clung to each other? He couldn't remember. They moved hardly at all. There was a waiting and a longing that palpated between them. Scott couldn't wait any longer.
He lightly kissed Traci's forehead. She didn't retreat. Instead, he heard the softest of moans come from her lips. It was the best music he'd heard all evening.
BLURB
Hot-shot Chicago prosecuting attorney Traci Steele works tirelessly keeping rapists off the street to prevent other women from suffering the hell she's endured, so she resists her friends' insistence that she take a two month R&R in their California Live Oak condo—until they persuade her to help their rancher friend as a private investigator.
Though he runs the stables at Live Oak, well-muscled mustached wrangler Scott McCord much prefers working with the race horses he trains at his ranch, and he can't believe his old friends have sent a greenhorn female to help him with horse troubles.
The improbable dance between this mismatched pair barely fits in around the escalating suspense of whoever's after Scott's horses. Traci is as tenacious in her sleuthing as she is terrified about her inability to ever love a man. Can Scott succeed in gentling her – like he does his horses – before she flees in panic?
BUY LINK    Amazon
REVIEWS
Night Owl Reviews Top Pick This is a story about letting go of your past so you can move on to your future…Add into this touching story of recovery a mystery that will keep you guessing to the very end, and you've got a story you won't be able to put down. Angi
You Gotta Read Reviews Rich in romance and suspense, this book had me mesmerized from the first page…a sensational job of combining just the right amount of suspense with a sauciness that leaves you longing for more. Val
Amazon Riveting mystery and love story in one great book Donna H. A Great story that shows that love can heal anything!" Amy B.
Goodreads  "This is a mature couple who have handled difficult situations in the past but have learned from them and do not give up what is important without a fight and serious soul-searching… I will miss this series and these characters." Sheila G
Click on the author names below to travel to the other entries in My Sexy Saturday: