Welcome to MidWeek Tease, where authors share tempting snippets to tide you over till the weekend. A huge shout out to author Angelica Dawson for hosting our blog hop every week!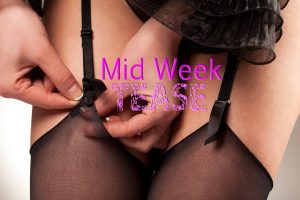 Do you fantasize about the swing lifestyle? Have you ever wondered what it would be like to participate in a threesome or more-some? How about a little voyeurism?
Today's erotic teaser comes from Book Two in our Swinging Games series.
EXCERPT
Boneless, Jen basked in the attention her three lovers were showering on her. It seemed like hours, but she knew Linda had been chewing on the corner of her mouth for only moments. Jen whimpered as Linda's tongue toyed, parting her lips, and Tom and Brett tended her boobs seemingly with extreme care not to touch a nipple with tongue or finger.
They'd all dispensed with their clothing quickly after settling into the room. But everything had been in slow motion ever since. She'd drawn the lucky card and was the first to receive total attention from her partners. Everyone understood the rules of this game. This was foreplay. There would be no genital penetration by fingers or cocks. A tongue might stray, but only in passing. She could have as many orgasms as developed. No one would discourage those natural responses, definitely not her.
Linda's tongue sank further into Jen's mouth and Jen swallowed, unable to stifle a moan. That must've been the cue to the guys, for each of them grazed a nipple and then drew one into their mouth. And she was nearly gone. Her unattended hips flexed of their own accord and then they bucked against the air as her first orgasm swept across her body. There would be more. She dug her fingernails into Linda's shoulders, wanting to savor the experience.

MORE ABOUT THE SERIES
In our fifteen-book Swinging Games series, you can experience the thrill of anticipation, the anxious moments of that first lifestyle encounter, the heat of three, four and more-way erotic adventures, house parties, swing clubs, lifestyle resorts and more, through the eyes of our hero and heroine, Brett and Jennifer Andrews. Here's how they got their start:
What's a girl to do? Happily married with all her children grown, Jennifer Andrews has finally figured out she's bisexual – but just turning on to hot f/f fiction and videos isn't enough. She wants the real thing, and she wants to share it with Brett. Addition sounds so much better than subtraction. Will the swing lifestyle be the answer they're seeking? They're determined to find out.
Book One, Anticipation, is all about how much just the fantasies of what might happen send their sex life spiraling to giddy heights.
Book Two, Hook-Ups, takes the reader on an up close and personal tour of Brett and Jen's first swinging date with another couple. It's available FREE at the Extasy Books website.
It's no surprise that once they dip their toes into the swing lifestyle, they dive right in – for a total of fifteen adventures. We hope readers will be enticed to dive right in and revel in the fantasies Brett and Jen inspire.
FREE BOOK, BUNDLE SALE
If you hurry, there are two bargain ways to read this series:
Book Two is always FREE at the Extasy website:
http://www.extasybooks.com/swinging-games-1/hook-ups/
The bundle of books One through Five is ON SALE at half price for a limited time at Extasy Books, only $5.28.
http://www.extasybooks.com/swinging-games-bundle-1-5/
It's easy to download Extasy ebooks to your Kindle:
1) set up an Extasy Account if you don't already have one
2) add extasybooks.com to your approved email list in your Amazon account
3) add your device email address to your ExtasyBooks.com account
4) select the "Send to Kindle" option when you download your book
~ o ~ o ~ o ~ o ~ o ~
Be sure to check out the rest of the Midweek teases from these marvelous authors: